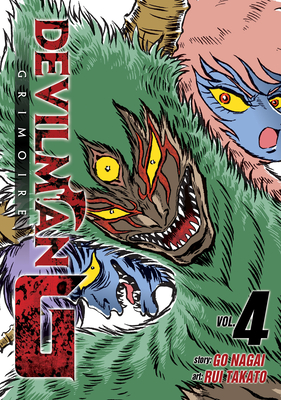 Devilman Grimoire Vol. 4 (Paperback)
Seven Seas, 9781626928503, 180pp.
Publication Date: September 25, 2018
* Individual store prices may vary.
Description
I AM DEVILMAN!
In a stunning act of defiance, Makimura Miki resisted the power of demonic possession, becoming a human with the power of a demon–a Devilman! Together with Amon, she'll need all of her newfound power to protect her classmates, and fend off the murderous rampage of the demon overlord Atrocious. Yet could Miki really be the only person to resist demonic domination? Could there be others with the strength of devils…?
About the Author
Go Nagai is one of the most well-known names in manga. With a career spanning almost 50 years, he is responsible for the creation of many popular series including Devilman, Cutie Honey, Mazinger Z. and Getter Robo.

Rui Takatou is a Japanese manga artist who works in a variety of genres. He is currently best known for his work on the recently completed Devilman Grimoire.
Praise For Devilman Grimoire Vol. 4…
"[...] a horror/superhero fusion, about a boy whose secret identity is that of a brawny muscled devil-creature. In the TV series, Devilman is basically a hero who fights a different monster in every episode. But the manga version was something much more original, much more crazy, much more Nagai." —Jason Thompson, Anime News Network

"...the art is very reminiscent of the original series without being a slave to recreating the 1970s, forming a nice mix of styles. Seven Seas' representative commented that this was a good entry to the Devilman franchise, and I'm inclined to agree with him – not only did the book leave me wanting volume two, but also curious to check out the original." —Rebecca Silverman, Anime News Network