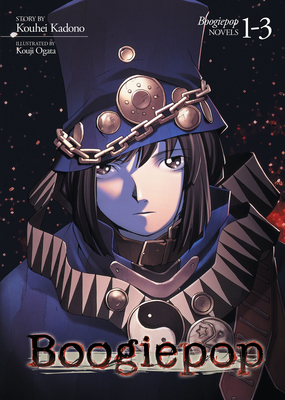 Boogiepop Omnibus Vol. 1-3 (Light Novel) (Paperback)
Seven Seas, 9781626929173, 600pp.
Publication Date: October 16, 2018
* Individual store prices may vary.
Description
An omnibus of Kouhei Kadono's first three novels that started the hit franchise–a modern classic that sparked the light novel craze in Japan!
There is an urban legend about an Angel of Death that puts those in pain out of their misery. This "shinigami" has a name—Boogiepop. When female students start disappearing from Shinyo Academy, everyone assumes the girls have run away, but Kirima Nagi knows something sinister is afoot. Something that might just involve Boogiepop…and an entity even more malevolent.
Told in a non-linear fashion that asks the reader to piece together the sequence of events to solve the mysteries alongside the characters, this special omnibus edition contains the first three volumes of the Boogiepop novel series, spanning the introduction of the shadowy Towa Organization, as well as Boogiepop's epic battle against the creature known as the Imaginator.

Contains the first three novels:
–Boogiepop and Others
-Boogiepop Returns: VS Imaginator Part 1
-Boogiepop Returns: VS Imaginator Part 2
About the Author
Kouhei Kadono is an influential Japanese author best known for the Boogiepop series, which, after winning Media Works' Dengeki Game Novel Contest in 1997, is credited with sparking the modern light novel craze in Japan.
Kouji Ogata is a Japanese manga artist best known for the illustrations in the Boogiepop series.
Praise For Boogiepop Omnibus Vol. 1-3 (Light Novel)…
"Kadono has proven that his series is one that should be on everyone's shelf." —ANIMEONDVD.COM
"Boogiepop rips the rules of narrative wide open."
—ANIME NEWS NETWORK
"Boogiepop and Others is something that should attract and interest any fans of the supernatural and of mysteries of any sort."
—MANGANEWS.NET