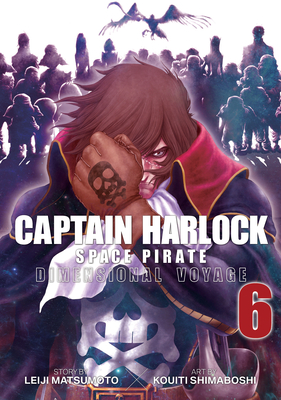 Captain Harlock (Paperback)
Dimensional Voyage Vol. 6 (Captain Harlock Space Pirate: Dimensional Voyage #6)
Seven Seas, 9781626929425, 180pp.
Publication Date: November 20, 2018
Other Editions of This Title:
Paperback (12/24/2019)
Paperback (8/13/2019)
Paperback (4/23/2019)
Paperback (8/28/2018)
Paperback (4/24/2018)
Paperback (9/5/2017)
Paperback (2/20/2018)
Paperback (12/5/2017)
* Individual store prices may vary.
Description
CAUGHT IN A TRAP!
While in pursuit of the Mazon, Harlock and the crew of the Arcadia get drawn in by the gravity field of the planet Derizer. With the Mazon ready to attack, things are looking dire for Harlock…until an old friend from his past appears on the battlefield–fellow space pirate and witch of the spaceways, Emeraldas!
About the Author
Leiji Matsumoto is one of Japan's most influential manga creators. He is best known for Galaxy Express 999, Captain Harlock, and an animated collaboration with Western musical duo, Daft Punk.

Kouichi Shimahoshi is a Japanese manga artist who made his debut on the highly-acclaimed remake of Captain Harlock.
Praise For Captain Harlock: Dimensional Voyage Vol. 6 (Captain Harlock Space Pirate: Dimensional Voyage #6)…
"Harlock leads the way to a world of new ideas."
—James Cameron (Film Director)
"There are enough stylistic differences and a few plot points that vary from the original to make this interesting for fans who read the first series, but this perhaps stands stronger as an introduction for new readers to one of the most influential science fiction manga of the twentieth century." —Rebecca Silverman, Anime News Network

"Kouiti faithfully preserves Leiji Matsumoto's character designs (I love Tadashi's young handsome look and Tochiro Oyama's goofy design in particular). At the same time, he brings a quality and detail to the art that brings Harlock into the twenty-first century." —Tia Kalla, Women Write About Comics