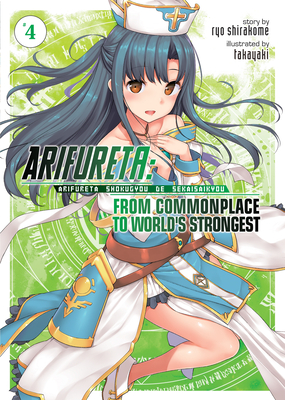 Arifureta (Paperback)
From Commonplace to World's Strongest (Light Novel) Vol. 4
Seven Seas, 9781626929494, 280pp.
Publication Date: December 18, 2018
* Individual store prices may vary.
Description
FATHER FIGURES?!
With their business in Ur concluded, Hajime and his party return to Fuhren. After getting Yue, Shea, and Tio their Status Plates, Hajime decides to take a break from adventuring–or so he thinks. If he doesn't find trouble on his own, it manages to find him! Running afoul of a shady underground organization during a date with Shea, Hajime ends up rescuing a young girl named Myu. Wait. Is he supposed to be her surrogate father now?!
About the Author
Ryo Shirakome is a Japanese author best known for Arifureta: From Commonplace to World's Strongest.

Takaya-ki is a Japanese artist best known for their illustrations in Arifureta: FromCommonplace to World's Strongest.
Praise For Arifureta: From Commonplace to World's Strongest (Light Novel) Vol. 4…
"...Hajime has to learn how to become superpowered and how to become a hero all on his own. It's a good twist on the genre conventions and really points out (through the parallel character of the class prince) that just having the powers isn't enough to make you a real warrior, much less hero." --Rebecca Silverman, Anime News Network