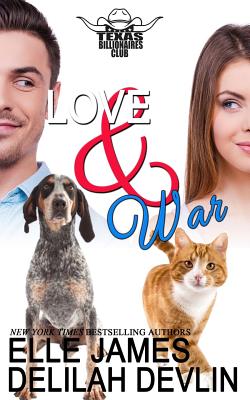 Love & War
Paperback

* Individual store prices may vary.
Other Editions of This Title:
Paperback (7/26/2017)
Description
Sophie Keaton's love life is a disaster. Too busy with her art gallery and weekends spent with the Army National Guard, she rarely has time for a date. Her orderly existence takes a twist when her Army National Guard unit gets a new Company Commander, Captain Gage Jenkins, who dislikes the idea of women in the Army, particularly her, and proceeds to make her weekend drill miserable. To bolster her self-esteem, Sophie finally takes her love life in hand and goes out on a date. Unfortunately, her date ends up in the emergency room with an allergic reaction to her cat. Her mooch of a brother, Bryce, feels sorry for her and offers to take her out to pick the "perfect man." When she finds Mr. Perfect, she spends a passionate night with him, but awakens to discover that Mr. Perfect is none other than her new commanding officer As a member of the Texas Billionaire's club, Gage has watched every one of his college buddies tie the knot. Although he'd met every challenge the group set in the early days, he resisted the last one-finding the perfect wife. Now, with his hands full expanding his construction business and whipping his new Army Guard command into shape, he has plenty of excuses to avoid that particular commitment. However, when he moves next door to one very attractive, very sexy woman, he finds himself deliciously distracted. When he discovers that woman is the same klutzy lieutenant he's been dogging from day one, he's not angry. He's amused. And intrigued. When the pair are challenged by their warring pets and matchmaking sergeants, the rules of Love and War get complicated...
Story Ink LLC, 9781626950696, 320pp.
Publication Date: July 13, 2017
or
Not Currently Available for Direct Purchase