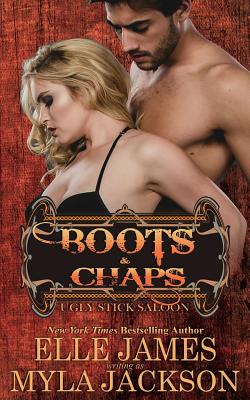 Boots & Chaps
Paperback

* Individual store prices may vary.
Description
Passions burn between a Kiowa cowboy and a red-hot former stripperIt's Jackson Gray Wolf's thirtieth birthday, and he has little to show for it. No woman, no kids and no prospects for dates. Sure, the Kiowa cowboy has a ranch and two younger brothers, but he's in a rut where women are concerned, until the pretty little owner of the Ugly Stick Saloon captures his attention. A hot encounter in the saloon storeroom ends before he can get her out of studded red cowboy boots. Audrey Anderson is trying to shake her former occupation as a stripper and project her new role as the savvy business owner of the Ugly Stick Saloon. Now instead of taking off her own clothes, she manages a bevy of strippers. When one of her strippers calls in sick, she's forced to slip on a mask and into her role as the kinky Kiki Cox for the Gray Wolf twins surprise party for their older brother. Not that she minds, not after a sizzling near miss with Jackson in her own storeroom. His mind on the red boots and tight tush of a certain saloon owner, Jackson doesn't want the birthday party his twin brothers are throwing. But his promise to ignore the stripper goes awry when she shows him just how willing she is to please him and his brothers.Audrey gives them her all, but fears the one she wants might be more interested in the sexy stripper Kiki than the tamer saloon owner, Audrey. Warning: This story contains hot Kiowa cowboy brothers and a former stripper in a heart-stoppingly HOT menage a trois First time in print 2017Previously e-published in 2014.
Twisted Page Inc, 9781626950917, 172pp.
Publication Date: March 29, 2017