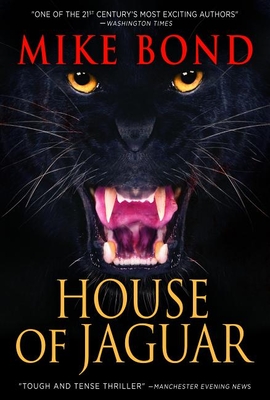 House of Jaguar
Paperback

* Individual store prices may vary.
Other Editions of This Title:
Digital Audiobook (4/3/2017)
Paperback (3/6/2014)
MP3 CD (5/2/2017)
Description
Over the jungle with a planeload of marijuana, Vietnam War hero Joe Murphy gets caught up in the brutal Guatemalan Civil War when he witnesses an attack on a Mayan village by the Guatemalan Army and its CIA advisors. Badly injured, he escapes on a nightmare trek through the jungle, hunted by the Army, the CIA, and death squads. Healed by guerrilla doctor Dona Villalobos, he falls in love with her and tries to save her from the war's widening horror of insanity, tragedy, and death. Caught in the crucible of violence and love, he learns the peaks and depths the human heart can reach, and what humans will do for, and to, each other. Based on the author's own experiences as one of the last foreign correspondents left alive in Guatemala after over 100 journalists had been killed by army death squads.

Mandevilla Press, 9781627040105, 388pp.
Publication Date: November 25, 2013
About the Author
BiographyMike Bond The master of the existential thriller (BBC) Best-selling novelist, war and human rights correspondent, environmental activist, award-winning poet and international energy expert, Mike Bond has lived and worked in many dangerous, remote and war-torn regions of the world. His critically acclaimed novels depict the innate hunger of the human heart for good, the intense joys of love, the terror and fury of battle, the sinister vagaries of politics and multinational corporations, and the magical beauty of the vanishing natural world. His latest novel, SAVING PARADISE, the epic of a Hawaiian surfer and former Special Forces vet caught up in the murder of a beautifulHonolulu reporter, has been called the eco-novel of the decade for its depiction of corporate and political corruption and the battle forHawaii's remaining paradises. His four previous novels are all based on his experiences in far, dangerous corners of the world: THE LAST SAVANNA: A former British commando battles elephant poachers who then kidnap the woman he loves, in this acclaimed insidestory of Africa's disappearing savannas, animals and freedoms. CROSSFIRE: A British undercover agent fights for his life in Beirut at the height of the Lebanese War -- a deep look into the Middle East'sancient wars and hatreds. FIRE LIKE THE SUN: An international best-seller about U.S. nuclear warheads lost in the Himalayas, a manhunt through Nepal, Iran, Greece, Algeria, France, Virginia and Colorado. NIGHT OF THE JAGUAR: Vietnam vet and weed smuggler Joe Murphy loses his plane in a Guatemalan jungle attack, falls in love withthe woman guerrilla who heals him, and fights to protect them both as the death squads hunt them down. Bond has published hundreds of articles on human rights, the environment, international finance, the energy industry, and women'srights, and appears frequently on TV and radio to discuss these subjects. www.MikeBondBooks.com
or
Not Currently Available for Direct Purchase