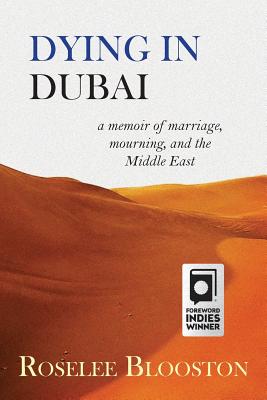 Dying in Dubai (Paperback)
A Memoir of Marriage, Mourning and the Middle East
Apprentice House, 9781627201155, 318pp.
Publication Date: October 1, 2016
Other Editions of This Title:
Hardcover (5/1/2017)
* Individual store prices may vary.
Description
DYING IN DUBAI is a memoir of love, loss, reckoning, and renewal, set against the backdrop of a Rodeo Drive-on-Mars desert city. It tells of the sudden death of Roselee Blooston's beloved husband, Jerry, and how her fifteen day journey through a profoundly disorienting environment, and the inner journey over the next thirteen months through the equally foreign terrain of grief, force her to face wrenching questions about his behavior there. As she free-falls through the city's frightening underbelly with its ubiquitous police stations, gender-segregated waiting rooms, arbitrary Sharia laws, and an opaque bureaucracy that prevents her from immediately bringing his body home, the Middle East becomes the catalyst for a life-altering confrontation with her partner, her marriage, and ultimately, with herself. DYING IN DUBAI shows the reader that no matter the uncertainties, it is possible to transcend heartbreak, and to move forward with joy.
About the Author
Roselee Blooston is an award-winning writer whose plays have been produced in New York, across the country, at the Edinburgh Festival, and over Voice of America, and whose short stories, essays, and articles have been published in national magazines, journals, and anthologies. DYING IN DUBAI is her first book, and is a 2016 Foreword INDIES Book of the Year Winner and a 2017 Eric Hoffer Book Award Finalist. You may reach Roselee via her website: roseleeblooston.com.
Praise For Dying in Dubai: A Memoir of Marriage, Mourning and the Middle East…
"A Must Read: ... and my advice is to get your eyes on it immediately. This vivid, vital and deeply touching memoir hits you like a shot in the heart It's a startling, tension-filled tale. What makes it an emotional powerhouse is the way Blooston, a gifted writer, is forced to redefine her marriage from its romantic origins—she and Jerry married at the bus stop where they first met—to the hard truths she learns about Jerry (and herself) after his death. I have no doubt that Hollywood will be eager to put its own stamp on this remarkable story. But there is no substitute for hearing it straight from Roselee herself." —Peter Travers, film critic, Rolling Stone (Facebook Post 10/1/16)

Roselee Blooston's beautifully written, brutally honest memoir of endurance and ultimate acceptance of the cataclysmic sudden death of her life's partner rings truer than any of the many I have read and more movingly than any I could have written. Writing has been a catharsis for Roselee, as it was for me. Here is a helpful and, yes, healthy lesson for surviving the trials and tribulations of widowhood and the essential task of becoming a "new you." As Roselee put it at the book's end: "Facing loss opened me up, and I like who I've become." —Jane Brody New York Times columnist & best-selling author of Jane Brody's Guide to the Great Beyond

"A gorgeously written, and gripping account of loss and love. Blooston brings to life the glittering city of Dubai, while at the same time letting you into her heart and her marriage. Uplifting and resonant, this book offers solace to anyone who has walked in a loved one's absence."
—Claire Bidwell Smith, author of The Rules of Inheritance

"Riveting from start to finish, Blooston's beautifully written memoir is a truly original contribution to the grief literature." —Jill Smolowe, author of Four Funerals and a Wedding

"Incredibly clear-eyed and composed, yet candid account of a life, a marriage, a love, a family, and a tragic death and its aftermath." —Eric Levin, deputy editor, New Jersey Monthly Magazine