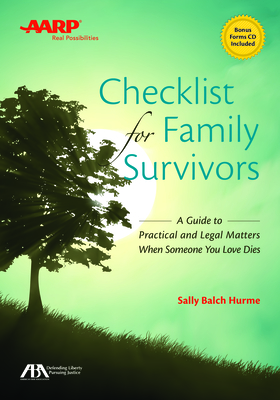 Checklist for Family Survivors: A Guide to Practical and Legal Matters When Someone You Love Dies [With CDROM] (Paperback)
A Guide to Practical and Legal Matters When Someone You Love Dies [With CDROM]
American Bar Association, 9781627222822, 240pp.
Publication Date: March 7, 2014
Description
Grand Award Winner for Print Media in the APEX 2015 Competition "An exceptional book. ...the content is first rate. Extremely well researched and well organized, each topic is well written, and carefully presented in as inviting a way as such a topic can be. If anything has been overlooked in this thorough book, we can't think what it might be. If you're planning on passing away, do your family a favor and get this book.: -)" APEX 2015 Judges Commentary A practical resource for dealing with family matters upon death, this first-of-its-kind publication from the American Bar Association and AARP the nation's leading associations in the law and the advancement of issues that matter most to people 50+ and their families helps answer the myriad of questions surrounding what needs to be done following a loved one's passing. This must-have book guides you through the steps to wrap up the personal and financial affairs of the loved one who died. Although the ABA/AARP Checklist for Family Survivors: A Guide to Practical and Legal Matters When Someone You Love Dies does not provide legal advice, it does include legal reasons, implications and complications that cover a variety of questions loved ones face upon death. In each chapter, you'll find convenient checklists to help guide you through the difficult time.
About the Author
Sally Balch Hurme, J.D. is currently a Senior Project Manager with the AARP Health Law Education team. In her twenty years at AARP, she has advocated on a wide range of issues including consumer fraud, financial exploitation, elder abuse, surrogate decision making, advance care planning, health care fraud, and financial security. She received her B.A. from Newcomb College of Tulane University and her J.D. cum laude from Washington College of Law, American University. She lives in Alexandria, VA.
Advertisement