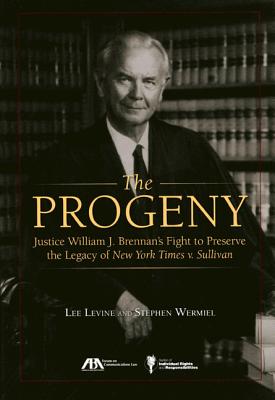 The Progeny (Hardcover)
Justice William J. Brennan's Fight to Preserve the Legacy of New York Times V. Sullivan
American Bar Association, 9781627224499, 473pp.
Publication Date: March 7, 2014
Other Editions of This Title:
Paperback (9/7/2014)
* Individual store prices may vary.
Description
New York Times Co. v. Sullivan, credited with defining the central meaning of the First Amendment, has protected the freedom of expression for the past 50 years. This compelling work of historical non-fiction focuses on the progeny of that decision, examining how Justice Brennan nurtured and developed the constitutional law of defamation and related claims. The book draws on the previously unreported papers of Justice Brennan and several of his colleagues and, through them as well as author Stephen Wermiel's private interviews with Brennan, provides the authoritative historical account of how an important body of constitutional law came to be. The Progeny offers fresh insights with respect to both what the law means and the process by which it was formulated. This text tells a compelling story in which the Brennan and his fellow justices are the lead characters. Given Sullivan's enormous impact on our rights to freedom of speech and press, this book is a must read for Supreme Court watchers, journalists, fans of legal history, and, of course, First Amendment enthusiasts.
About the Author
Lee Levine, a partner in the Washington D.C. firm Levine Sullivan Koch & Schulz, L.L.P., has represented media clients in libel, invasion of privacy, copyright and related First Amendment cases for more than 25 years. In the United States Supreme Court, he argued Harte-Hanks Communications, Inc. v. Connaughton on behalf of the newspaper defendant and Bartnicki v. Vopper on behalf of the media defendants. Mr. Levine has litigated in the courts of more than 20 states and the District of Columbia and has appeared in most federal courts of appeal and in the highest courts of ten states. He has been recognized by The Best Lawyers in America (Woodward/White) and by Chambers USA (Chambers & Partners) as a leading media law practitioner. Mr. Levine is also an Adjunct Professor of Law at the Georgetown University Law Center, where he has taught media law since 1989. Stephen Wermiel is a Professor of Practice in Constitutional Law and associate director of the Summer Institute on Law and Government at American University Washington College of Law. He is a past chair of the American Bar Association Section of Individual Rights and Responsibilities and author of a biweekly column on SCOTUSblog aimed at explaining the Supreme Court to law students. He is co-author of Justice Brennan: Liberal Champion, the definitive biography of the late Supreme Court Justice William J. Brennan Jr.
or
Not Currently Available for Direct Purchase