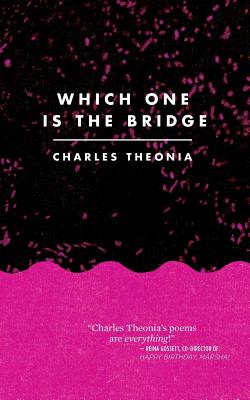 Which One Is the Bridge (Paperback)
Topside Heliotrope, 9781627290135, 46pp.
Publication Date: May 11, 2015
* Individual store prices may vary.
Description
AS THEY CRUISE THROUGH 21ST CENTURY Brooklyn, Charles Theonia's romantic, hopeful characters have a lot to endure: ice cream trucks packed with undercover policemen, white cat hairs on immaculate all-black outfits, and wrenching romantic disappointments on permanent rotation.
Full of tragedy, absurdity and emojis, these delicious poems remind us that even when love keeps veering in every direction, we should never stop chasing it.
About the Author
CHARLES THEONIA is a poet and teacher from Brooklyn, NY. Their poems have appeared in You Have Ripped Your Dick Off, Trans Poets Will Burn Your House Down, FemmescapeS (with Julieta Salgado), Toe Good Poetry, The Artist Catalogue, and The Advocate. With Abigail Lloyd, they co-curate __4__, a series presenting queer and trans words and performance. They once broke up a fight at a Mariah Carey concert on New Years Eve as the diva descended from the ceiling in a glittering sleigh. Which One Is The Bridge is their first book.