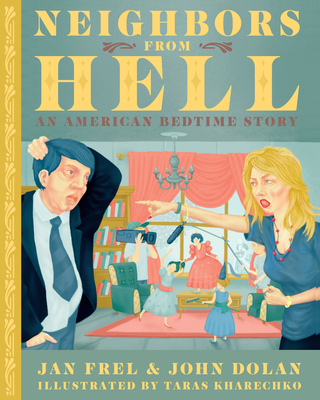 Neighbors from Hell
An American Bedtime Story
Hardcover

* Individual store prices may vary.
Description
Neighbors From Hell finds itself nestled in the children's book for adults niche in the vein of Go the F*ck to Sleep. The book tells the story of the real life monsters in America who could be living next door, people like a repo man, a reality TV star, or a slumlord.
The playful rhymes provide the reader (whether a child or an adult), an informed perspective on the biggest social and economic problems facing our country.
Taras Kharecko illustrates stories by AlterNet editor-at-large Jan Frel and prolific author John Dolan that will intrigue children of all ages and terrify adults who understand the real damage caused by these monsters in our neighborhood.

Feral House, 9781627310123, 24pp.
Publication Date: June 16, 2015
About the Author
Jan Frel: Jan Frel is editor-at-large and associate publisher. He's been involved with AlterNet since 2004, previously as political editor, staff writer and managing editor. A graduate of St. Andrews University of Scotland, Jan worked on Howard Dean's presidential campaign and at TomPaine.com. John Dolan is a writer who lives in Saudi Arabia. Both Jan and John were born and raised in California. Taras Kharechko is an illustrator who lives in Lvov, Ukraine.
or
Not Currently Available for Direct Purchase