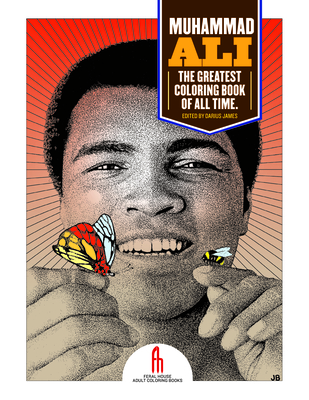 Muhammad Ali (Paperback)
The Greatest Coloring Book of All Time (Feral House Coloring Books for Adults)
Feral House, 9781627310475, 112pp.
Publication Date: June 6, 2017
* Individual store prices may vary.
Description
Noted author Darius James introduces and edits the Spring 2017 editions of the Feral House Coloring Book for Adults Series. As author of the classics That's Blaxploitation and Negrophobia: An Urban Parable, James is the perfect person to co-curate the volume created in honor of Ali.
As Darius says of Ali: "Just as he was for many Americans, Muhammad Ali's appearance on the cultural landscape was a turning point in my life. The moment he proclaimed 'I am the greatest, ' he demonstrated it was possible to speak truth to power. This is a quality Ali reflected throughout his life."
About the Author
Darius James. Dr. Snakeskin. The artist and author embraces both titles, but neither expresses the frenetic genius of the man himself. Born in Connecticut but raised at the intersection of Hoodoo culture and New York City's downtown literary scene, Darius James cut his teeth writing for various literary zines, as well as Penthouse magazine's "Ask Dr. Snakeskin" column. His first book, Negrophobia: An Urban Parable (1993), is the story of sixteen-year-old White teenager Bubbles Brazil and her frightening vision of African American culture. James's electrifying mix of screenplay, performance art, and poetry makes for a tasty gumbo that's sure to titillate your satirical palate. For his second book, the semi-autobiographical tome That's Blaxploitation! Roots of the Baadasssss 'Tude (1995), James mined the hazy days of his '70s youth. Through interviews with key figures in the blaxploitation genre and hilarious, pointed reviews of many blaxploitation films, James welcomes new-jack and seasoned fans alike. Tony Millionaire's Maakies is one of the most popular weekly comic strips in America, running in many of the largest U.S. weekly newspapers, including the Village Voice, the L.A. Weekly, theChicago Reader and Seattle's The Stranger. He has won numerous Eisner and Harvey Awards, including "Best Syndicated Strip" in 2004 and "Best Writer/Artist -- Humor" in 2007.