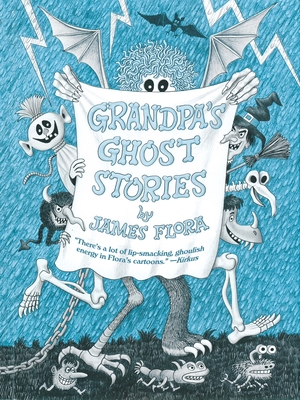 Grandpa's Ghost Stories
Hardcover

* Individual store prices may vary.
Description
Jim Flora's fantastically illustrated books captivated kids throughout the 1960s and 70s, so much so that secondhand copies sell for exorbitant sums. Grandpa's Ghost Stories has been the most sought-after of his children's books, and Feral House is pleased to announce the first reprint since its original publication in 1978. These ghoulish and amusing stories and wildly inventive illustrations will keep readers shivering. Perhaps better known for his brilliant and madcap illustrations that graced the covers of hundreds of jazz and classical record albums in the 1940s and 50s, Jim Flora also wrote and illustrated seventeen popular books for children. In this book, Grandpa comforts his grandson during a fierce thunderstorm by telling him stories about far scarier things, including a hungry werewolf and an evil witch who turns boys into spiders. The illustrations bring the tall tales to life with Flora's incomparable humor and wit. Grandpa's Ghost Stories is a spooky (and silly) delight for all ages. This edition includes an introduction by writer, radio personality and cultural historian Irwin Chusid, who has published several books of Flora's artworks and illustrations, and also runs JimFlora.com.
Feral House, 9781627310529, 32pp.
Publication Date: October 10, 2017
About the Author
James Flora is best known for his wild jazz and classical album covers for Columbia Records (late 1940s) and RCA Victor (1950s). He authored and illustrated 17 popular children's books and flourished for decades as a magazine illustrator. Few realize, however, that Flora (1914-1998) was also a prolific fine artist with a devilish sense of humor and a flair for juxtaposing playfulness, absurdity and violence. Irwin Chusid (born April 22, 1951, Newark, New Jersey) is a journalist, music historian, radio personality and self-described landmark preservationist. Since 1975 Chusid has been a DJ on free-form radio station WFMU, where he continues to host an unpredictable and idiosyncratic weekly program whose content he calls genre-surfing tokenism Chusid chronicled the overlooked work of innovative record cover artist/commercial illustrator Jim Flora in his colorful 180-page trade paperback, The Mischievous Art of Jim Flora (Fantagraphics, 2004). A follow-up, The Curiously Sinister Art of Jim Flora, co-authored with (former KFAI radio host) Barbara Economon, was published by Fantagraphics in February 2007. The latter book unveiled Flora's bizarre and rarely seen paintings, woodcuts, sketches, and early works. A third anthology, The Sweetly Diabolic Art of Jim Flora, was published in July 2009. A fourth book, The High Fidelity Art of Jim Flora, focusing on Flora's illustrated album covers and music ephemera for Columbia and RCA Victor Records, was published in September 2013. Chusid and Economon serve as co-archivists for the Flora collection, and produce a line of fine art prints of the artist's work.