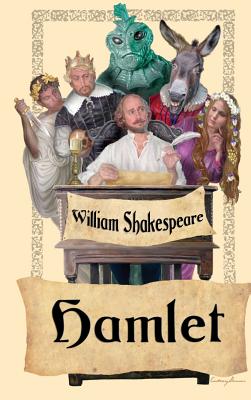 Hamlet (Hardcover)
Wilder Publications, 9781627551946, 150pp.
Publication Date: May 28, 2013
Other Editions of This Title:
Paperback (9/21/2009)
Paperback (1/24/2019)
Paperback (11/14/2017)
Paperback (8/24/2017)
Paperback (5/31/2013)
Paperback (10/5/2008)
Paperback, German (6/3/2015)
Paperback (4/10/2009)
Paperback (12/3/2012)
Paperback (12/3/2012)
Paperback (8/9/2018)
Paperback (2/4/2009)
Paperback, German (3/26/2015)
Paperback (4/6/2010)
Paperback (9/20/2009)
Paperback (11/3/2018)
Paperback (1/11/2016)
Paperback, Spanish (12/1/1999)
Hardcover (10/15/2008)
Hardcover (8/22/2015)
* Individual store prices may vary.
Description
The Tragedy of Hamlet, Prince of Denmark, is widely considered Shakespeare's greatest play. Hamlet is confronted by the ghost of his father, who tells him that Hamlet's uncle and mother conspired to poison him. Knowing that his uncle, who now sits upon the throne, and his mother, who has married his uncle and is now his queen, have murdered his father, Hamlet sets out to avenge his father's death and set things to right. But his plan could destroy the entire realm. To be, or not to be-that is the question: Whether 'tis nobler in the mind to suffer The slings and arrows of outrageous fortune Or to take arms against a sea of troubles, And by opposing end them. To die-to sleep- No more; and by a sleep to say we end The heartache, and the thousand natural shocks.