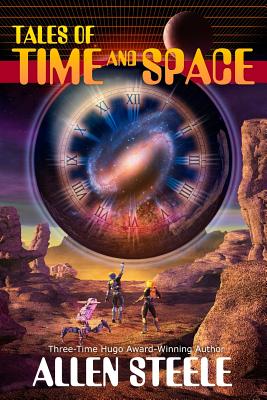 Tales of Time and Space
Paperback

* Individual store prices may vary.
Description
Journey Through the Past and Into Infinity with ALLEN STEELE
From the multiple Hugo Award-winning author of Coyote comes twelve astounding stories of science fiction (yes, old-timers, the pun is intentional). Twelve tales of adventure, mystery, and romance in the grand tradition by "one of the field's very finest writers" (Robert J. Sawyer).
From the deserts of Mars to the distant frontiers of the galaxy, from an island paradise of the 1930's to an apocalyptic showdown between humans and robots on the day after tomorrow, Allen Steele transports you to worlds unvisited and events that haven't been experienced... until now
"Steele is an author whose grasp is broad, and focused toward futures in which Homo sapiens has a chance of flourishing. For this alone, he is an important representative of mature Genre SF." --John Clute, The Encyclopedia of Science Fiction
..".eloquent... a wonderful introduction to Steele's work, in which he stretches his talents..." --Publishers Weekly starred review
"Allen Steele... writes the kind of science-based, extrapolative tales that we all enjoy.... Tales of Time and Space brings together an even dozen of Steele's stories, and each one is a delight.... "The Big Whale" is a hilarious mash-up of Herman Melville and pulp detective stories...." --Don Sakers, Analog Science Fiction and Fact.
Fantastic Books, 9781627556347, 242pp.
Publication Date: April 24, 2015