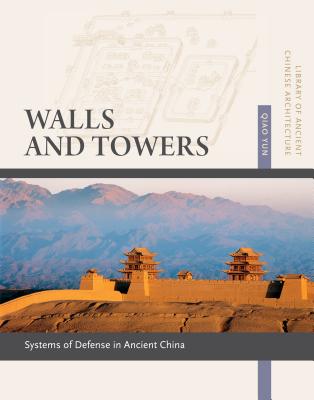 Walls and Towers (Paperback)
Systems of Defense in Ancient China (Library of Ancient Chinese Architecture)
Cn Times Books Inc., 9781627740210, 196pp.
Publication Date: March 3, 2015
* Individual store prices may vary.
Description
Walls and Towers explores walls and other fortifications of ancient China. It details the evolution of these structures, from simple city walls and moats to the remarkable Great Wall. Walls extending over thousands of miles were erected throughout China's history, to ward off invasions from the north, or to serve as boundaries between hostile neighboring states. The Great Wall of China, often referred to as "the ten thousand li great wall," today remains over 1500 miles long.

In Walls and Towers, Qiao Yun details the construction of the Great Wall, the most iconic defense structure in the world, and explains the great engineering skill that was required for the building of walls. The Great Wall is depicted in detail by a series of photographs that demonstrate its awe-inspiring beauty and strategic importance. In addition, this volume documents both existing defense structures in North, Central, South, Northeast, and Western China, as well as the sites of former fortifications lost over time, including citadels, turrets, and gates. The reader is given an insight into the supreme effort that went into securing China, protecting dynasties and their subjects.

Walls and Towers includes 116 color photographs, 31 illustrations and figures, and 8 maps, giving the reader greater knowledge of the defense structures of China. The Great Wall, multiple gates and turrets, and city plans are all included in these illustrations. Also included is a glossary with important terms and definitions. This volume cements the Great Wall and other defense structures as integral parts to China's architectural heritage.
About the Author
Qiao Yun was born in Luanxian County, Hebei Province, and he graduated from Beijing Teachers College, where he majored in Chinese literature and Chinese history. He then joined China Architecture & Building Press, where he became a Senior Editor and Deputy Chief Editor. Since the early 1960s, Yun has been involved in writing and editing "The History of Ancient Chinese Architecture" and "Ancient Chinese Architecture." He was chief editor of "Yuanmingyuan," editor of the "Academic Periodical of Yuanmingyuan," and has published over 20 essays. He also wrote "Taoist Buildings," another volume of the" Library of Ancient Chinese Architecture" series. He also wrote "Taoist Buildings," another volume of the "Library of Ancient Chinese Architecture" series."
or
Not Currently Available for Direct Purchase