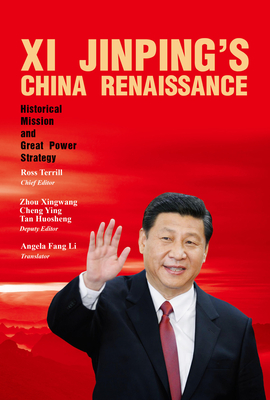 Xi Jinping's China Renaissance
Historical Mission and Great Power Strategy
Hardcover

* Individual store prices may vary.
Other Editions of This Title:
Hardcover, Chinese (12/13/2016)
Description
Under Xi Jinping's governance, he has brought order out of chaos: making radical reforms, exercising diligence, putting forward a series of new ideas, new thoughts and new governing strategies. He's quickly established a system of strategic governance, and is sounding the call for a Chinese Renaissance that will move forward to all the developed countries.
Xi Jinping's China Renaissance: Historical Mission and Great Power Strategy is the most important issue in the 21st century of human history as well as the most significant historical event in China's five thousand years.
What are China's developing trends in the next 30 years?
What is the interaction from China under the leadership of Xi Jinping to the world?
This book for the first time makes it clear that Xi Jinping's historical missions are: to complete the three leading ideals of Chinese governance - the governance of the ruling party, nation and the global community; to avoid two pitfalls - the middle-income trap and Thucydides' Trap (where a rising power causes fear in an established power which escalates to war); to achieve a big leap - to jump over from the developing to developed countries and achieve the great renaissance of the Chinese nation.
Like Mao Zedong and Deng Xiaoping, Xi Jinping is influencing the course of Chinese history, and his renaissance strategy will have a vast and far-reaching impact on China and the world.
Xi Jinping's China Renaissance: Historical Mission and Great Power Strategy describes how Xi Jinping will complete this arduous historical mission; explains his strategic system; analyzes Xi Jinping's major decisions on governance, governing logic, and governing features on hot issues of worldwide public concern, such as China's world economic restructuring, party reform, military reform, judicial reform, fight against corruption, ecological reconstruction, China's global governance program.
This book clearly defines that the nature of China's rise is the revival of Eastern civilization in the era of globalization. China's rise will exert an influence and appeal to moral and cultural cohesion. China will play the role in the global order by soft power and innovation, instead of seeking super power status. The whole world can benefit from the opportunities in China, without the need to worry about the "China threat."
CN Times Books Inc., 9781627740302, 250pp.
Publication Date: December 13, 2016
About the Author
Ross Terrill
  is Research Associate at Harvard University's Fairbank Center for Chinese Studies and the author of eleven books. He has won the Los Angeles Times Book Prize and two major US journalism prizes: National Magazine Award, and George Polk Memorial Award. He has been public policy scholar for Washington's Woodrow Wilson Center; an editor for Atlantic Monthly; and member of the American Political Science Association.
Zhou Xingwang graduated from the Department of Journalism of Renmin, University of China with a Masters Degree. He served as reporter, editor, and commentator for the Workers' Daily and currently serves as Deputy Editor-in-Chief for Labor Afternoon newspaper in Beijing. His major works: Mission - Centennial Legend of Renmin University of China documentary, What Do the Japanese Rely On? and What Makes People of Hunan?

Tan Huosheng is a professor of Political Science at Tsinghua University.

Ying Cheng graduated from the Department of Chinese Language of Beijing University with a Masters Degree in Comparative Literature. He served as editor in THK Section in External Department of Xinhua News Agency; also as journalist, writer, and assistant to Editor-in-Chief, Deputy Editor-in-Chief for Oriental Outlook Weekly of Xinhua News Agency. 
 
or
Not Currently Available for Direct Purchase