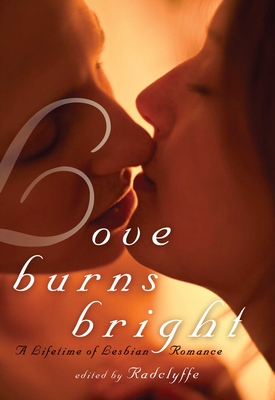 Love Burns Bright (Paperback)
A Lifetime of Lesbian Romance
Cleis Press, 9781627780001, 242pp.
Publication Date: December 17, 2013
* Individual store prices may vary.
Description
"…kissing Kathy is like kissing her for the first time and the millionth time, new and yet familiar, fresh and yet filled with the memories of every kiss we've shared. Before I fall into the mindless spiral of desire, though, I realize something. What's important isn't the future, isn't the possible forgetting. What's important is right now, this moment, glorying in everything that it is with no other goal than mutual pleasure." - Andrea Dale, Sepia Showers
Love, passion, desire…the pleasure that begins with the thrill of the first date, the breathless anticipation of the first kiss, and the euphoric wonder of the first night of passion only deepens as love grows. These stories of lesbian couples celebrating their lives and desire from some of the best romance and erotica writers today are heartfelt and best of all, hot! Some things really do get better with time…come discover the never-ending passion of lesbian love and desire in these tales of Love So Bright!
About the Author

Radclyffe is the founder of the publishing house Bold Strokes Books and a recipient of the 2003/2004 Alice B. Toklas award. Also recognized with a Lambda Literary Award, she lives in upstate New York.

Praise For Love Burns Bright: A Lifetime of Lesbian Romance…
"Love Burns Bright brings together erotic stories of lovers who have managed to keep the sexual pulse in their long-term lesbian relationships. Part erotica, part love story, the nineteen stories range in age, ethnicity, and style, but return to the oft-challenged notion that sexual thrall can live well into the latter years of a relationship." --ForeWord Reviews
"In these well-written stories, readers are treated to mature couples who have made their unions work. As more and more states recognize gay marriages, books that support and celebrate successful relationships are important to couples who are together for the long haul." --Lambda Literary
"Well-written, diverse, romantic and sexy, Love Burns Bright will heat up your winter." --She Magazine
"Love Burns Bright is an anthology packed full of deep love and even deeper passion. Expressed through every day life, it's a celebration of the connection felt between lovers. Each story touches you, draws you into intimate moments and touches your heart." --Kink, Etc.
"The stories here have stood the test of time." --Reviews by Amos Lassen
"Eminent lesbian romance author and editor Radclyffe curates a hot yet heartwarming collection of romantic and erotic scenarios focused on longtime lesbian couples, still in love and enjoying the kind of intimacy that comes from deep awareness of a partner's responses."--Publishers Weekly