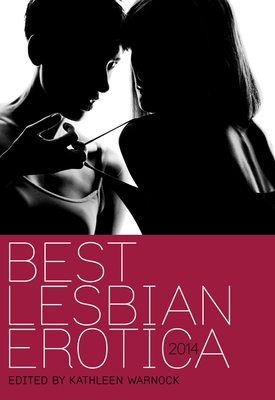 Best Lesbian Erotica 2014 (Paperback)
Cleis Press, 9781627780025, 244pp.
Publication Date: December 17, 2013
* Individual store prices may vary.
Description
Hailed as "mesmerizing" by the Insight Out Bookclub, the world's largest LGBT reading group, Cleis' Best Lesbian Erotica is the standard bearer for the genre. Kathleen Warnock has taken the series to new heights of ecstasy with the 2014 entry which is sensational, sensual as well as being really smart smut. A Goldie nominated editor, Warnock collects stories from around the globe, giving this assemblage a fresh sensibility and new points of view. But what really sets Best Lesbian Erotica 2014 apart, however, is the characters; each woman is written so real, you can almost feel the warmth of their bodies in the bed beside you. Evocative and erotic, this commanding collection holds readers--right to the very last page.
About the Author
Kathleen Warnock is a playwright and editor. Her erotica (as Kyle Walker) has previously appeared in several editions of Best Lesbian Erotica, as well as A Woman's Touch and Friction 7. Her plays have been seen in New York, London, Dublin, and regionally. She was the 2006 winner of the Robert Chesley Award for Playwriting, and the 2008 Arts & Letters Prize for Drama. She curates the Robert Chesley/Jane Chambers Playwrights Project for TOSOS Theater. Her articles and interviews have appeared in GO! Magazine, Ms., BUST, Metal Maidens, ROCKRGRL, and many other publications. She curates the Drunken! Careening! Writers! reading series at KGB Bar in New York City. She is a member of the Dramatists Guild, the Publishing Triangle and Emerging Artists Theatre.
Praise For Best Lesbian Erotica 2014…
"Lusty lesbians sexing it up in bite size pieces is always a delight." --BDSM Book Reviews
"These sixteen portraits of delightfully smart smut present a realistic look at lesbian desire." --EDGE
"Devoted to ladies in love and the twenty stories are as equally varied as in its sister publications." --Erotic Trade Only
"The sex was pretty well-drawn, steamy, and exciting, and yes, very vivid, so much so that you feel as if you're actually in the moment, being that fly on the wall watching these fictional characters in action." --V. C., author of It's a Girl Thing
"I appreciate the Best Lesbian Erotica series as an annual grab bag of erotic adventures." --C-Spot Reviews
"The BLE series always pushes emotional and sexual boundaries, and the 2014 edition is no exception." --She Magazine
"Best Lesbian Erotica 2014 is an excellent collection that I highly recommend. It's well crafted in how the stories are arranged, the stories are diverse, and the characters are well developed. As a whole, it reflects upon on the pleasure of a struggle--the friction between what we need and our ability to fulfill not just our own needs, but the needs of lovers." --Peep's Scoop
"This is erotica that rises far above smut. It is evocative, fresh and powerful." --Reviews by Amos Lassen
"One of the wonders of Best Lesbian Erotica is the range of women depicted in these stories: Desi, black, white, femme, butch, cancer survivors and disabled, skater girls and knitters - even skater girls who knit. What unites this disparate group of folks is desire and hot sex. Since this is a Best Of anthology, there's really no such thing as a bad story here." --Erotica Revealed
"The stories in Best Lesbian Erotica 2014 are flowery, gritty, and powerful; female-centric and woman-positive. The selections are a thoughtful blend of realism and fantasy -- not so outrageous that readers can't find themselves in them, but grounded, earthy, erotic stories. The characters feel real, and if one of these women happened to crawl into bed beside you, or slide you a drink at the bar, you would consider yourself lucky, no matter what your sexual orientation." - xoxo
"Powerful, memorable, and potent" -- Curve Magazine
"Fresh, powerful, erotic as hell, and creatively engaging, these fictional evocations of lesbian lust, love, and lingering kisses couldn't be hotter if they had just been slipped out of the microwave." --CleanSheets.com
"These women are looking for the edge, and they find it." --Gay & Lesbian Review
"Cutting-edge seduction and sex." --Bay Windows
"The quality of writing is second to none." --Erotica Readers & Writers Association
— Reviews
or
Not Currently Available for Direct Purchase