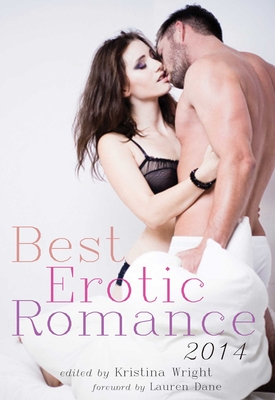 Best Erotic Romance 2014
Paperback

* Individual store prices may vary.
Description
This decidedly blissful and romantic anthology is filled with couples in every stage of love and lust who simply can't get enough of each other. Best Erotic Romance 2014 is naughty and nice, and has both the heat and the sweet. Editor Kristina Wright has developed a stellar reputation with romance readers and fans, winning the coveted Golden Heart award. Desire, love, and realism are the heartbeat of the third edition of this popular, well-reviewed series. The authors are top writers in the erotica and erotic romance genres and they capture the essence of lustful loving in their passionate stories. From new lovers to married couples who have withstood the test of time and parenting, these are luscious, heartfelt tales layered with eroticism and emotion.
Praise For Best Erotic Romance 2014…
"Desire, love and realism are the heartbeat of Kristina Wright's Best Erotic Romance 2014."
Creative Loafing Tampa

"This series of erotic romance is the first to combine sex and romance in ways that are realistic and honest."
Reviews by Amos Lassen

"Erotic Romance, how do I love thee? Let me count the ways Here in this collection you have sixteen ways. Read the stories by writers who perfectly understand the intersection of the physical and the emotional. A steamy and emotionally fulfilling read...these writers take us right into the heart of a relationship. Savor and enjoy."
from the foreword by Saskia Walker

"Are you looking for some quick, sexy and fast paced stories to enjoy? BEST EROTIC ROMANCE 2013 has just that. These stories are all about love and sex, from a happily married couple to a fantasy happening in a department store dressing room. This book gives readers many different scenarios to choose from. While they do center on sex, these stories give the reader a glimpse at real life as well. Schedules and obstacles need to be overcome. Life and work happen and the characters in these stories must work around it all. Pick up BEST EROTIC ROMANCE 2013 and have some fun!"
Fresh Fiction

"If you want to skip past the soap-opera stories and get right to the juicy stuff, then you should probably pick up Best Erotic Romance, the first anthology to offer stories where the sexual and the romantic are entwined. ... All the stories have an optimistic ending that will leave a song in your heart and a smile on your lipsthe passionate, emotional encounters will leave you breathless."
Erotic Readers and Writers Association

"A thought-provoking and entertaining gamut of tales that encompass all stages of romance. A wonderful range of stories that tell erotic tales of new love, the fears accompanying the start of a marriage, pregnancy, stolen moments from child-rearing, the antidote to stagnation in a relationship, the pain of broken dreams and the fear of commitment. A enjoyable reminder that romance and eroticism are synergistic and healthy elements of a relationship."
Night Owl Reviews

"The stories are deeply passionate, and each tale first makes the reader care about its characters before pulling them into the steamy sex scenes. No matter what the surroundings, one thread runs through every story in this volume: true love endures."
Publishers Weekly (Starred Review)

"They don't come much more wicked than Kristina Wright."
Erotica Revealed

"Kristina is a phenomenal writer... she has the enviable ability to tell a story and simultaneously excite her readers."
Erotica Readers and Writers Association

"Kristina Wright knows how to spin a yarn that keeps the readercaptivated."
Coffee Time Romance

"Kristina Wright is a gifted writer... [who] shows her talents to tell a powerful story with deft subtlety."
Erotica Readers and Writers

"A budding force to be reckoned with."
The Romance Reader

"She shows how sexy the simple exchange of words can be when in the hands of an accomplished author."
Erotica Readers and Writers Association

"Kristina Wright delivers taut, breakneck pacing with snappy dialogue."
Book Page

"Well written and provocative, the stories in Best Erotic Romance touch upon many different aspects of our sexuality and our expressions of sex within the context of our most intimate relationships. This is a book that celebrates the role of sex in our lives, and the need we have for intimacy, love, and passion." The Happiest Medium
Cleis Press, 9781627780094, 224pp.
Publication Date: February 18, 2014
About the Author
Kristina Wright (kristinawright.com) is the editor of over a dozen published and forthcoming Cleis Press anthologies, including the best-selling Fairy Tale Lust: Erotic Fantasies for Women. Other titles include: Dream Lover: Paranormal Tales of Erotic Romance; Steamlust: Steampunk Erotic Romance; Lustfully Ever After: Fairy Tale Erotic Romance; Duty and Desire: Military Erotic Romance; xoxo: Sweet and Sexy Romance, and the Best Erotic Romance series. She is also the author/editor of the cross-genre Bedded Bliss: A Couple's Guide to Lust Ever After for Cleis Press. Her fiction has been published in over one hundred anthologies and her nonfiction has appeared in numerous publications, both print and online. She holds degrees in English and humanities and has taught composition and world mythology at the college level. Originally from South Florida, Kristina is living happily ever after in Virginia with her husband, Jay, and their two little boys.