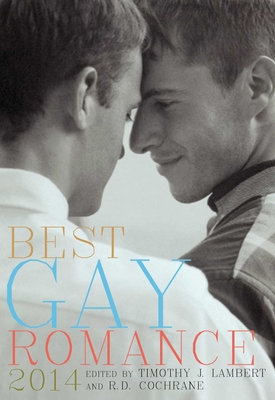 Best Gay Romance 2014 (Paperback)
Cleis Press, 9781627780117, 244pp.
Publication Date: February 18, 2014
* Individual store prices may vary.
Description
Tales of love and lust in contemporary gay culture, Best Gay Romance 2014 is a Valentine to readers and a wonderful reminder of how love can begin -- at the grocery store, the gym, the library, or even on the world wide web. Real romances with relatable characters, each of the stories in this collection represents a facet of the oh-so-human heart.
About the Author
R.D. Cochrane has published short stories and two novels: Coventry Christmas and Coventry Wedding. Together, they've co-published several novels including The Deal, It Had To Be You, When You Don't See Me, I'm Your Man, and Someone Like You. Both live in Houston, TX.Timothy J. Lambert is a prolific writer whose stories have appeared in Best Gay Love Stories and The Mammoth Book of New Gay Erotica. He also selected and introduced Best Gay Erotica 2007.
Praise For Best Gay Romance 2014…
"Lustful tales of cruising, catching, and consummating love." --Bay Area Reporter
"If you're looking for sweet, hot, first meetings, chance meetings, romance and love that has lasted, then this book holds all you need." --The Romance Reviews
"Best Gay Romance 2014 is a superb collection of fictional short stories about love and romance." --The Gay UK
"Reminds readers that love can begin in the most unlikely of locations." --Erotic Trade Only
"Modern and current, each of these stories is unique and personal." --Kink Etc.
"We see the passion and the possibilities of love." --Reviews by Amos Lassen
"The Best Gay Romance 2014 is an anthology edited by Timothy J. Lambert and R.D. Cochrane that includes 15 stories of m/m relationships that range from the sweet evocation of a new romance amidst the craziness of Hollywood ("Strange Propositions" by Eric Gober) to the carnal pleasures of unexpected lovers initiating someone to all kinds of new experiences in the world of make-believe ("The Invincible Theatre" by Felice Picano). Some were angsty, and others, thought-provoking and emotional, especially "Spill Your Troubles On Me, Love" by Georgina Li, which paints a starkly contrasting portrait of a bond between two people in very harsh circumstances. My favorites are the poignant and wonderfully romantic "Sight" by by Jordan Taylor that follows the development of a relationship that not only has to weather the challenges of coming out but also the obstacle of coping with an unexpected disability and "Shep: A Dog" that blends a whimsical bit of paranormal with the genesis of a sweet new romance. Some of the stories seem to end a bit too soon but there is definitely a nice mixture of styles and this is a great introduction to the works of many talented authors." --Night Owl Reviews
"While there's still some s-e-x in these pages, the focus here is ...romance! It's sweet, and (surprise!) incredibly satisfying..." --Instinct Magazine
— Reviews
or
Not Currently Available for Direct Purchase