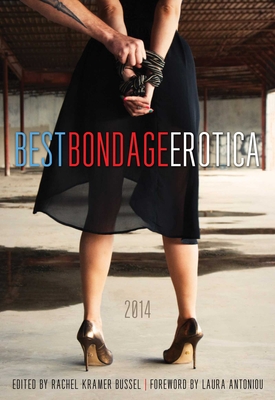 Best Bondage Erotica (Paperback)
Cleis Press, 9781627780124, 212pp.
Publication Date: January 7, 2014
* Individual store prices may vary.
Description
Rachel Kramer Bussel ties her readers up in knots each year as they anticipate the very best BDSM stories of the year. And, she does not disappoint, defying the odds and occasionally gravity with tales of bondage at its best. These whip-smart tales of domination, submission, spanking, and other highly imaginative acts keep readers in a frenzy. Best Bondage Erotica 2014 features 21 hot bondage tales that titillate from the bedroom to the dungeon and beyond. Handpicked by best-selling erotica editor Bussel, these kinky stories show and tell exactly what it means to wield the special power of being in charge of someone else. These characters manipulate rope, handcuffs, leather straps, a St. Andrew's cross, a chair, and, in Raziel Moore's "My Own Device," a special contraption crafted just for bondage, with the ultimate aim of pleasing each partner. Here, bondage takes place behind secret doors, at sex parties, at the office, on a mountain hike, and, of course, at home.
About the Author
Rachel Kramer Bussel edits "Sex Diaries" for "New York Magazine" and hosts SRO readings around the country. The former sex columnist of "Lusty Lady" in "The Village Voice, " she was the longtime senior editor of "Penthouse Variations" and has edited the "Best Sex Writing" series since 2008. She's a prolific erotica editor, and her titles include "Spanked, He's on Top, She's on Top, Passion, " and "Do Not Disturb." She lives in New York City.
Praise For Best Bondage Erotica…
"If you are looking for a collection of fascinating, thought-provoking and scorching hot stories, look no further than Best Bondage Erotica 2014."
The Romance Evangelist

"21 hot bondage tales that titillate from the bedroom to the dungeon and beyond."
Creative Loafing Tampa

"A great way to figure out where your boundaries lie. Get the conversation started by highlighting the bits that turn you on and passing over to your lover."
She Does the City

"Featuring the work of some of erotic literature's best known names."
Erotic Trade Only

"Excellent rope-themed anthologyworth owning."
Reading & Writing by Pub Light

"The Best Bondage series is a favourite at Come As You Are! This series' stories are usually not the most edgy we have to offer, but they are always curated thoughtfully, and have made many a customer happy over the years! Enjoy the sensual possibilities of a made-to-fit 'device' that renders the woman strapped in it completely helpless to her controller. Or, skip to the story of the strong & silent (and handsome, of course) cowboy all wound up in rope. Got a thing for sexy and daring circus performers? There's a story for you in here! Paperclips? Tradesmen? Check and check! Enjoy this delicious array of fresh stories in Best Bondage Erotica 2014introduced by Laura Antoniou, and featuring a wide selection of kinky authors."
Come As You Are

"These bondage stories are from the bedroom to the dungeon and beyond and are about what it means to be dominant. No matter what, you won't be disappointed."
My Secret Luxury

"Every form of bondage you can imagine and maybe some you have never thought of fill the pages of this sexy book."
The Subclub

Rachel Kramer Bussel ties her readers up in knots each year as they anticipate the very best BDSM stories of the year. And, she does not disappoint, defying the odds and occasionally gravity with tales of bondage at its best. These whip-smart tales of domination, submission, spanking, and other highly imaginative acts keep readers in a frenzy."
We Love Kink

"Best Bondage Erotica 2014 opens up with a foreword from Laura Antoniou and an introduction from Rachel Kramer Bussel before jumping right into a perfect opening story about rope dancing. From that point on I was enraptured by the stories and could hardly put the book down."
Frisky Fairy Reviews

"Rachel Kramer Bussel is the most knowledgeable and prolific book editor and spoken word producer in contemporary erotic literature."
Audible

"Beautifully written and sweet and dirty."
Sinclair Sexsmith, editor of Say Please: Lesbian BDSM Erotica

"I really enjoyed the fact that the stories showed the love, respect and trust between everyone. Best Bondage Erotica 2013 is a hot read that shows us how far trust and love can take us."
Fresh Fiction

"For those who think it's all about the maledom, think again. This does include a good share of M/f, yet it covers ménage, M/m, F/f and F/m to my delight. Even better, every orifice is explored willing and deliciously unwillingly. This kinky book is highly recommended to erotic readers who want their senses stimulated and their bondage desires satiated."
BDSM Book Reviews

"Overall, [Best Bondage Erotica 2010]... will have a special place in my collections."
Mistress Kay, kinky-world.net

"I don't pick up an anthology looking for the same story over and over. I was certainly not disappointed in this collection at all."
Jane Melisande, Kink & Polly, on Best Bondage Erotica 2012

"Bussel clearly has no use for the flowery prose that weakens much of erotic literature, and the stories are full of delightfully human characters who talk, think, and have sex like real people."
xoxoamore.com, on Best Bondage Erotica 2012

"The best collection of erotic bondage stories I've seen for a long time."
kfsmedia.com, on Best Bondage Erotica 2013

"This is a wonderful diverse collection of tales with something to offer just about everyone."
Bibary, on Best Bondage Erotica 2012

"This book has some of the best BDSM stories I have ever read."
Karen Blue, kissinbluekaren.com on Best Bondage Erotica 2012

"As someone who has only read the highest class of smut from far too early an age, say Anne Rice's Sleeping Beauty series at age 12, I can highly recommend Best Bondage Erotica 2012 for both the kinky minded and vanilla alike."
Mia Moore, Bondassage, on Best Bondage Erotica 2012


"A scintillatingly kinky combination of scenarios is offered for the reader's arousal, captivating with words anyone who has a bondage fetish."
Night Owl Reviews


Best Bondage Erotica 2011 is a great collection, and I'd recommend it if you're even the slightest bit curious about bondage. There's a little bit of everything from the perspective of every kind of narrator, from the hesitant to the committed pro and everything in between."
DirtySexyBooks.com

"This is a really great book full of really awesome kink. There is some spanking, some public humiliation, some total power exchange featured within. I highly recommend this book because I really enjoy a good bondage story whether the bondage is real or imagined. This book featured some very sexy players enjoying some very hot kink. I enjoyed the variety."
Kissin Blue Karen

"If you're looking to find some awesome authors, check this book out. If you're wanting to read some hot bondage, this is the book you want. If you're to explore this genre, this is your book.I found myself learning new things and enjoying old. These authors truly give you some of the best bondage erotica in 2012."
Night Owl Reviews

"If you're looking for good writing, powerful eroticism, and a delightful variety of approaches to the same theme, you won't go far wrong with Best Bondage Erotica 2012."
Erotic Readers and Writers Association

"Rachel Kramer Bussel ... returns with a collection of dark delights for those of us who take a walk on the wild side and those who want to venture there. ... The stories presented here are easily adapted to real life scenarios, so don't just think of it as a collection of well written erotica by some of the best writers of the genre; instead, think of it as an instruction manualIntro to Bondage... Each story is carefully crafted to yank on our lusts (no pun intendedor perhaps it is) and I can imagine Bussel having a hard time selecting which to use. Collected here, however, are the best bondage erotica that the year has to offer."
A Book Hunter's Journal

"There's a little of everything here for fans of bondage. From traditional restraints-stocks, corsets, and shackles-to everyday items turned to exciting and inventive uses-saran wrap, wire cables-there's a lot here to get your kinky mind whirling on the possibilities."
Erotica Revealed

"The stories in this collection balance the swirling apprehension, arousal and curiosity about one's own limits that makes BDSM so thrilling and sexy."
Kaitlin Kochany, Good Vibrations Blog

"The best collection of erotic bondage stories I've seen for a long time."
ksfmedia.com

"As someone who has only read the highest class of smut from far too early an age, say Anne Rice's Sleeping Beauty series at age 12, I can highly recommend Best Bondage Erotica 2012 for both the kinky minded and vanilla alike."
Mia Moore, Bondassage

"A collection of stories that will leave you squirming in your seat if you like ropes, cuffs and chains."
Purrversality

"There's a little bit of a lot of things here. Irreverence, romance, sinister urges, thought-provoking observations, and pure unbridled lust. First person, third person, present tense, and addressed to the readerthey're all here, along with a lot of hot het perversion and a little bit of queer girl-dom."
Darklady