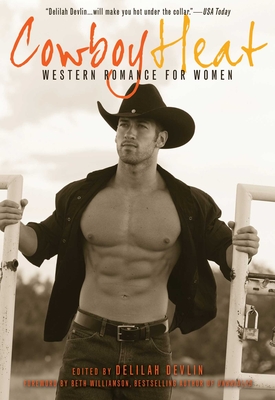 Cowboy Heat (Paperback)
Western Romance for Women
Cleis Press, 9781627780339, 232pp.
Publication Date: March 18, 2014
* Individual store prices may vary.
Description
They may ride off into the sunset, but cowboys never go out of style. These manly men embody the fiercely independent, earthy alpha male and hero who isn't afraid to show the gentle, nurturing side of his complex nature when faced with a woman in need. Even when he's coated with dust from riding behind a herd of cattle or up to his knees in mud freeing a calf from a wallow, this stud still generates a lot of Cowboy Heat. Delilah Devlin's Cowboy Lust was a sensation, hitting the top ten of romance books and generating a river of praise. Award-winning Devlin is back on the ranch with stories of rugged romantics, rough riders, and rope wranglers sure to satisfy any reader who craves the idea of that gruff, romantic hero, a man of few words but many moves. Cowboy Heat sits tall in the saddle, winning hearts and spurring readers to new heights of happiness.
About the Author
Delilah Devlin is a rising star in the world of erotica and romance. Her titles include Cowboy Lust, Into the Darkness, Seduced by Darkness, Darkness Captured, Down in Texas, and Texas Men. Her short stories have been featured in Zane's Purple Panties, Girl Crush, Fairy Tale Lust, Lesbian Lust, Carnal Machines, and Passion. A USA Today best-selling author, she lives in Arkadelphia, AR.Jo Davis lives in Wylie, TX.
Praise For Cowboy Heat: Western Romance for Women…
"Delilah Devlin gathers up some of the hottest writers today and takes you back to the ranch with stories of rugged romantics, rough riders, and rope wranglers sure to satisfy any reader who craves the idea of that gruff, romantic hero, a man of few words but many moves." --USA Today
"A new anthology of rugged romantics, rough riders, and rope wranglers." --Publishers Weekly
"Where have all the cowboys gone? They're here, in this compilation of 14 stories of classic, and modern western romance edited by Delilah Devlin. Saddle up, ladies…" --Erotic Trade Only
"I never had a thing for cowboys, and I never could understand those that did. Until this anthology showed up in my mail box. It's sexy and sultry. Every story oozes the type of masculinity that makes me weak in the knees (and other parts). I am totally into cowboys. Thank you, Delilah Devlin." --Krissy Novacaine
"Cowboy Heat is a must read for anyone that likes a good cowboy romance as it has something for everyone." --The Romance Reviews
"Honey, let me tell you, these cowboys are hot. From the sensitive hero in Emma Jay's adorably romantic story, "Mrs. Morgan and the Marshal" to the so, so sweet dance lesson in Myla Jackson's "Shall We Dance?", these stories will tap right into your romantic, sexy-cowboy-lovin' soul." --Malin James
"These are some deliciously erotic cowboy stories and every one of them will get your pulse pounding. I highly recommend these quick stories that leave you longing for your very own cowboy." --We Love Kink
"If you enjoy steaming hot stories, about extremely hot cowboys and the women that love them, then I think you will really enjoy this anthology." --Reviews by Crystal
"A great combination of intriguing tales that showcase the talents of a wonderful collection of authors who know how to combine spice and an entertaining story." --Night Owl Reviews (top pick)
"This anthology is a loving, sexy and warming tribute to the studly cowboys of our hearts, and definitely one to pick up (along with Cowboy Lust, of course)." --Cara Sutra, reviewed by Lady Laid Bare
"These are great reads for while sitting in the carpool lane or on your lunch break--enough to give you that cowboy fix, and enough that you aren't left having to bookmark and wait to finish!" --Snarky Mom Reads
"Do hard working cowboys turn you on? Do they get your thermostat rising? Then Cowboy Heat, edited by Delilah Devlin is the book for you. Add a little spice to your romantic life and enjoy a variety of stories of the Western kind!" --Networking Witches
"If you love sexy cowboys who treat their women right, are true gentlemen, and well endowed then you'd be crazy to pass this up. Get it, I promise you will not regret it. Mine is going on my nightstand."--Ms. Romantic Reads
— Reviews
or
Not Currently Available for Direct Purchase