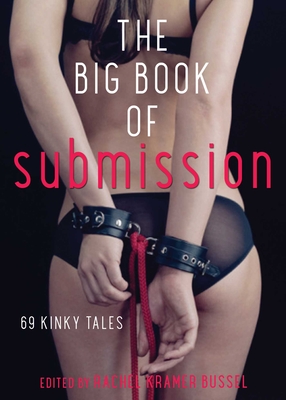 Big Book of Submission (Paperback)
69 Kinky Tales
Cleis Press, 9781627780377, 384pp.
Publication Date: July 15, 2014
* Individual store prices may vary.
Description
Submission takes many forms in this collection of 69 short stories, from straining in bondage to taking a spanking, being put on display, and beyond. By turns bratty and worshipful, these submissives will go to great lengths to fulfill their naughtiest fantasies and are rewarded splendidly by their masters and mistresses. A student returns to show his former teacher who's really in charge, a photo shoot becomes an opportunity for erotic games, and a man revels in his wife's past as a former dominatrix. These brats, masochists, and hungry-for-sensation subs go above and beyond for the ones they adore, pushing themselves to new limits while their devious dominants put them through their paces. Edited by Rachel Kramer Bussel, these short stories sizzle with the tension of erotic power play, commands followed, and service willingly performed.
About the Author
Rachel Kramer Bussel (rachelkramerbussel.com) is a writer, editor, event organizer and erotica writing instructor. She's edited over 60 anthologies, including The Big Book of Orgasms, Come Again: Sex Toy Erotica, Dirty Dates, On Fire, Spanked, Please, Sir, Please, Ma'am, and is Best Women's Erotica of the Year series editor. Her nonfiction has been published in The New York Times, The Washington Post, Marie Claire, O, The Oprah Magazine, Elle.com, Salon, Slate, Time.com, The Village Voice and numerous other publications. Follow her @raquelita on Twitter and learn more about her writing workshops and consulting at EroticaWriting101.com.
Praise For Big Book of Submission: 69 Kinky Tales…
"Veteran editor Bussel assembles stories exploring every aspect of erotic submission." --Publishers Weekly
"Big Book of Submission is a superb book. It comes from Cleis and it's edited by Rachel Kramer Bussel--both of which are guarantees of high quality in erotic fiction." --Erotica Revealed
"Stellar, explicit collection." --Violet Blue, editor of Best Women's Erotica
"These short BDSM-themed pieces cover everything from spanking to suspension, so you're sure to find something that caters to your specific dark twisted fantasies." --Center for Sexual Pleasure and Health
"Some [stories] may even open your mind to new ideas and possibilities, allowing you to acquire a few more fantasies along the way." --Cara Stura
"Edited by Rachel Kramer Bussel, this new collection of short stories is the perfect study guide for kink, power play and BDSM." --Unbound Box
"The quality of the stories in this book is fantastic. If you're looking for an anthology full of kinky short stories, this is the one to get." --Property of Potter
"If kink is your thing, (or even if you're just kink-curious), you need to get your hands on this collection now. But please, know what you're getting into - this is sex with a spank and a bite. It's everything Fifty Shades promised to be but didn't quite deliver - namely honest, literate, responsible erotica about bondage, submission, pain and lust that was written by people who know what they're talking about." --Malin James
"If you like well written erotica of the BDSM variety (that also touches on a lot of other themes, like gender identity and marriage), then you won't be disappointed in The Big Book of Submission." --Septimus Reviews
"The anthology is a wide array of stories on kink of every flavor. I think anyone who has the slightest interest in kinky fiction will find something to their tastes within the pages." --Can't Talk Media
"Fancy a short sharp shock? Better yet--fancy 69 short sharp shocks? Then you should get your greedy little hands on a copy of Rachel Kramer Bussel's The Big Book of Submission." --Rose de Fer
"The Big Book of Submission is one of the best erotica collections that I have had the wicked pleasure of enjoying." --Bitches n Prose
"The stories are short and provide little flashes into the world of the submissive." --The Gestalt Boudoir
"Page after sizzling page of slinky subs and hot doms, pushing each other's buttons and playing power games… Just be careful you don't overheat!" --Tamsin's Superotica
"I know when I see a book edited by Rachel Kramer Bussel that I will not be disappointed and this book entertains readers from cover to cover." --Night Owl Romance
"This luscious book is a smorgasbord of tales from veteran eroticists and new voices, all less than 1200 words, but packing a powerful punch because you get nothing but "the good parts." There is definitely something for every taste!" --Donna George Storey
"There are some truly impressive stories in here, from both newly published writers and authors well known to fans of erotic fiction." --Teresa Noelle Roberts
"69 delectable tidbits of raunchy BDSM fiction." --Krissy Novacaine
"Submission does not have to be simply tying someone down, but can take many, many forms. In this case 69 of them!" --Clitical
"It's undeniable that most good D/s is transformative, a ritual that changes you in the way that all good magic spells do. That thread of transformation runs through many of these stories, a message that it's not the floggers and rope burns and commands that comprise submission, but the internal gifts it leaves you with when the scene is done." --Valerie Alexander
"I gave this book 5/5 stars for obvious reasons [...] Just get this book. You will not be disappointed." --Karen Blue, HedoVibes
"There are no wasted words or long set ups. Here is submission stripped
— Reviews