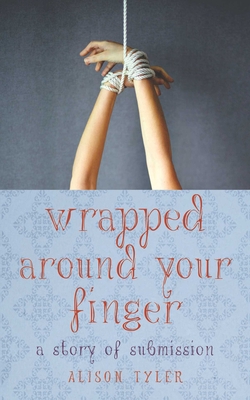 Wrapped Around Your Finger
A Story of Submission
Paperback

* Individual store prices may vary.
Description
Entirely suited to one another Jack and Samantha continue to explore their sultry kink-drenched love affair. Jack a dominant's Dom pushes Samantha's boundaries making Sam do things she'd never thought she wanted to -- never believed she would. He takes her in public on stage punishes her with both sensory deprivation and erotic overload. And then he proves to her that all of those actions suit her to perfection. Costumes erotic toys role-playing and a 24/7 BDSM-lifestyle fulfill Samantha's dirtiest dreams. Yet can she manage to stretch her love for Jack to incorporate his carnal need for his male assistant Alex as well? Take the ride with this deviant trio and enjoy their complicated intricate happily ever after.
Praise For Wrapped Around Your Finger: A Story of Submission…
"Those with a taste for power exchange will be rewarded." -Publisher's Weekly
"I also recommend the work of Alison Tyler. Are they feminist? That is so hard to say but I never feel bad about myself or my sexuality after reading the work she write[s] and curate[s]." --Roxane Gay author of Bad Feminist
"I've never made a secret of the fact how much I admire Alison Tyler--she's a first class writer and a superb editor of all things erotic." --Tamsin Flowers author of Her Boss & His Client
"I love about Alison Tyler because I always feel like I have learned something after I finish reading one of her books. Without fail Tyler's prose picks up my brain and rattles it around." --Ella Dawson
"The book is ideal for both the BDSM novice as well as "old pro." The book is an eye-opener and it is also very well written." --Reviews by Amos Lassen
— Reviews
Cleis Press, 9781627780636, 240pp.
Publication Date: September 9, 2014
About the Author
Alison Tyler is a prolific author of erotic fiction and is the editor of Three-Way, Heat Wave, Best Bondage Erotica, Love at First Sting, and Naughty or Nice. Called a "literary siren" by Good Vibrations, she is the author of over 25 explicit novels. Her books have been translated into Japanese, Dutch, German, Italian, Norwegian, Greek, and Spanish. She lives in San Francisco.