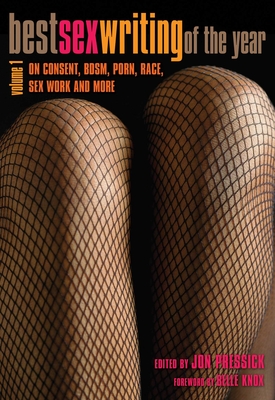 Best Sex Writing of the Year, Volume 1
On Consent, BDSM, Porn, Race, Sex Work and More
Paperback

* Individual store prices may vary.
Description
This first volume of Best Sex Writing of the Year features a number of significant bloggers and some of the most important stories of the past two years. Alexandria Goddard is the blogger who made the important connections in the historic Steubenville Rape Case; Epiphora is the most renowned and saucy sex toy reviewer who has legions of dedicated followers; Lux Alptraum has recently sold the wildly successful Fleshbot and taken an editorial position at Nerve. These contributors (and many others) know the words that sell online, and their presence in this collection will carry tremendous weight with readers.

At the same time, this anthology features topics that have not received as much attention in previous editions. Jiz Lee raises exasperated hands to the ongoing ban of fisting in porn. Internationally acclaimed musician Ember Swift recounts her sexual appetites while she was pregnant. David Henry Sterry remembers his experience as a sex worker providing service to an 82-year-old woman. People -- including those beyond the sex community -- are learning to consider sex from many different angles, and this collection covers a great number of them.
Praise For Best Sex Writing of the Year, Volume 1: On Consent, BDSM, Porn, Race, Sex Work and More…
"Just be warned that this is a book that will likely make you throw everything you think you know about sex and chuck it out the window. It's thought provoking and in some cases an emotional read and I can't recommend this book highly enough."-Clitical
"I devoured Best Sex Writing of the Year from Cleis Press. I gulped down the articles in droves, rarely letting up, and as if with cheeks full of delicious thoughts and new ideas, I yelled "These are the conversations we should be having. This book is a conversation-igniting megaforce to be reckoned with that features some of the best sex writers out there." -PeepsScoop
"I did not find one story among the 20 that was not worth a read. Best Sex Writing 2013 is, as its name boldly states, just that: the best." --Washington Times, in praise of Best Sex Writing 2013
— Reviews
Cleis Press, 9781627780865, 256pp.
Publication Date: March 17, 2015
About the Author
Toronto-based writer, editor, blogger, and radio personality Jon Pressick has been specializing in topics related to sex and sexuality for more than 15 years. His writing has appeared in Kinkly, Sexuality Tomorrow, Best Sex Writing 2013, Met Another Frog, Quill & Quire, New York Magazine, Extra, and fab. Jon recently completed work on a chapter on anal sex for the forthcoming anthology Secrets of the Sex Masters. He primarily writes for his blog Sex in Words, where he collects and offers analysis of sex-related news stories as well as feature interviews with sex bloggers, sex product reviews, and erotica writing exercises. As one of the hosts and producer of Toronto's long-running sex radio institution Sex City, Jon has interviewed some of the sex community's biggest names, including Cindy Gallop, Joan Price, Jayme Waxman, Susie Bright, Tristan Taormino, Lux Alptraum, Reid Mihalko, Carol Queen, Dr. Charlie Glickman, and many others.Belle Knox is the nation's most famous university-student-turned-porn-star. She is an award-winning pornography actress and a sex-positive feminist activist who caused a media sensation when she made the outrageous claim that sex work empowers her. She has contributed to Time, XoJane, Huffington Post, Playboy Online, MTV Staying Alive AIDS Foundation, The Sinclair Institute, Forbes, and Penthouse Forum on the topics of feminism, sexual freedom, censorship, and freedom of expression. She has been featured in top publications and news sources such as The Independents, CBS, HLN, ABC, Time, Rolling Stone, New York Times, CNN, Fox, "The View", Howard Stern, Penthouse, Cosmopolitan, Hustler, Elle, Vanity Fair Cinema, NPR and MTV. She is a Women's Studies & Political Science scholar at Duke University. She has spoken at Duke University on sex work, labor politics, and feminism. She resides in Durham, North Carolina.
or
Not Currently Available for Direct Purchase