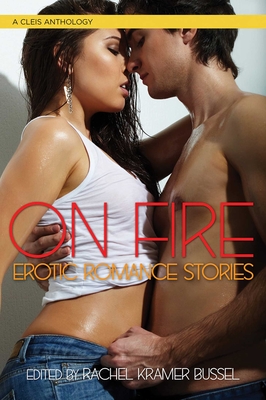 On Fire (Paperback)
Erotic Romance Stories
Cleis Press, 9781627782067, 216pp.
Publication Date: August 8, 2017
* Individual store prices may vary.
Description
In On Fire, today's top erotic romance authors don't skimp on love or lust--they are entwined in tales that will make pulses pound and hearts race. Bestselling editor Rachel Kramer Bussel takes us inside the passions of couples who go above and beyond in their pursuit of sexual and romantic satisfaction, exploring the racy to the outrageous during their many arousing adventures. You'll treasure the sex toy exploration in "Every Second of It," find paranormal pleasure in "Masquerade," and be transported to "A Place As Beautiful As This." You'll go "Beyond the Blindfold," find out what lurks in the "Art of Darkness," and delight in discovering "The Sweetest Thing." These steamy stories by Kristina Wright, Delilah Devlin, Giselle Renarde, Kay Jaybee, Victoria Blisse, Jade A. Waters and others are perfect intimate reads to enjoy with your lover or for your own pleasure.
About the Author

Rachel Kramer Bussel (rachelkramerbussel.com) is a writer, editor, event organizer and erotica writing instructor. She's edited over 60 anthologies, including The Big Book of Orgasms, Come Again: Sex Toy Erotica, Dirty Dates, On Fire, Spanked, Please, Sir, Please, Ma'am, and is Best Women's Erotica of the Year series editor. Her nonfiction has been published in The New York Times, The Washington Post, Marie Claire, O, The Oprah Magazine, Elle.com, Salon, Slate, Time.com, The Village Voice and numerous other publications. Follow her @raquelita on Twitter and learn more about her writing workshops and consulting at EroticaWriting101.com.

Praise For On Fire: Erotic Romance Stories…
"Every story is a sinfully sexy yet always romantic delight." --Charlotte Stein, author of Never Sweeter

"On Fire is a delicious collection of sensual, luxurious, erotic shorts, like bites of the finest chocolate that linger on your tongue." --Elizabeth SaFleur, author of the Elite Doms of Washington series

"A wide variety of writers add their flavor to this eclectic assortment of erotic delights. Each manages to be unique when telling their particular story. Kudos to Bussel for doing an excellent job in organizing this collection. [Four stars.]" --RT Book Reviews