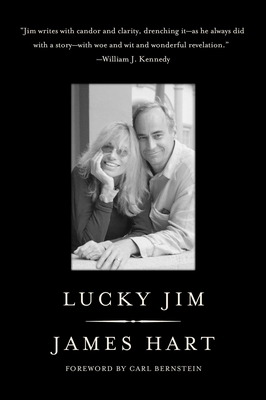 Lucky Jim
Paperback

* Individual store prices may vary.
Other Editions of This Title:
Compact Disc (4/11/2017)
MP3 CD (4/11/2017)
Description
Lucky Jim is Jim Hart's memoir, the story of how he survived a violent childhood home, found incredible words inside him, created a love that was both so right and so wrong, and finally found the strength to be his true self.

Jim is a master at building relationships. Charming, funny, and a great listener with a guru's insight, his success in life and business was based on his ability to connect with others, from people recovering in 12-step groups in Upstate New York to those living in the rarified air of Martha's Vineyard. But after 20+ years sober, one slip-up triggered an active addiction that threatened his relationships with his then-wife, singer-songwriter Carly Simon, his recovery friends, his severely disabled son, and even with himself as he began to confront his sexuality.
Praise For Lucky Jim…
"Jim weaves his tale between the various seemingly opposing strands of his life . . . Then there was our magical chance meeting and marriage and life on Martha's Vineyard; his own struggles as a writer and a harrowing relapse into active alcoholism, and exploration of long-hidden parts of himself. Recovery comes with loss. Time gives and takes away. And Jim's words chronicle with rare lyricism and wit the feelings that these events evoke." --
Carly Simon
— Reviews
"He was poor and divorced and the dad of a special son when he met a rich, beautiful, famous woman on a train. They fell in love and married, which should have saved his life. He was twenty years sober when he picked up a crack pipe for a year, which should have killed him. There's a gritty and marvelous memoir in there, and James Hart survived to write it--with grace, humor and a generous dose of wonder." --
Honor Moore
, author of
The Bishop's Daughter
— Reviews
"I have heard the stories of Jim Hart's extraordinary and far-reaching life--from the dark glamour of the Westies's Hell's Kitchen through to the evanescent glamour of life with Carly Simon, Jackie Onassis, Mike Nichols and others on Martha's Vineyard and in Manhattan, and beyond. . . I am thrilled that others will now be able to behold Jim's life and the stories; there is resonance--and there are lessons--here. --
Sheila Weller
, author of
Girls Like Us
— Reviews
"The best memoirs take us on a journey of pursuit and struggle and passion--to find oneself. From the train ride of the opening chapter, Jim Hart's
Lucky Jim
rivets the reader as it hurtles down the track: There is grace, love, crack, straight sex, gay sex, bold-face names, heartbreak, and triumph in almost impossible circumstances--the kind of life-stuff that suggests we are in for a major ride, and then delivers." --
Carl Bernstein
— Reviews
"A former business executive tells the moving story of his rise from poverty to privilege and the secrets that haunted--and almost destroyed--his life.
Hart (Milding, 2004) met future wife Carly Simon on a chance train ride to New York City. He had not known who Simon was, only that he was profoundly attracted to her. A former seminarian, the author was a divorced insurance salesman and sober alcoholic with a mentally challenged son. His early life had been marred by the alcoholism and violence of a father whose "rages were as unpredictable as the Atlantic," and Catholicism had been his refuge. Simon, by contrast, lived a glamorous life as a famous recording artist who had been married to singer James Taylor and romanced by countless other stars, as well as the daughter of Simon & Schuster co-founder Richard Simon. Despite their differences and the fact that the author, who bore a striking resemblance to Taylor, sometimes felt like a replacement for him, they married six months after they met. For Hart, the main challenge was acclimating to privilege and his sudden acquisition of the financial and emotional support he needed to pursue his dream of writing a novel. He soon discovered that his underlying attraction to men was also an issue, but one he could not face. Painful fissures appeared in his marriage to Simon and in his life; prescription painkillers, hookups with gay men, and crack cocaine became his modes of escape. Two decades after it began, his marriage ended, and he was forced to confront three painful truths: that he was an addict and homosexual who had failed the son he could not bring himself to love. In this searching, honest, and emotionally nuanced narrative, Hart navigates the struggle with his personal demons and the celebrity world with which he unexpectedly became enmeshed with elegance, grit, and artistry. The result is memoir that makes for exceptionally poignant, lyrical reading.
A finely written, painful, but profound book." --Kirkus Review, February 1, 2017
— Reviews
"Jim writes with candor and clarity, drenching it--as he always did with a story--with woe and wit and wonderful revelation." --
William Kennedy
— Reviews
Cleis Press, 9781627782142, 240pp.
Publication Date: April 11, 2017
About the Author
James Hart is a former business executive and CEO of the award-winning literary magazine, DoubleTake. His collection of poems, Milding, was published in 2004. For several years he was a board member of the National Council on Alcoholism, and in 2005 he cofounded of OUT for Work, a career fair development program for the LGBT community in New York City. Jim lives in New York City and is currently very active in the LGBT and recovery communities there.
or
Not Currently Available for Direct Purchase