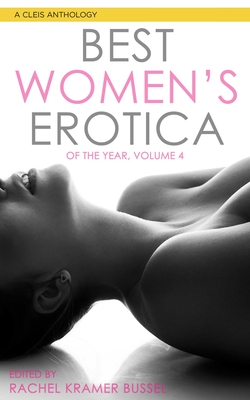 Best Women's Erotica of the Year, Volume 4
Paperback

* Individual store prices may vary.
Other Editions of This Title:
Paperback (12/10/2019)
Paperback (1/12/2016)
Paperback (12/8/2020)
Paperback (12/12/2017)
Paperback (12/13/2016)
Paperback (12/21/2021)
Description
In Best Women's Erotica of the Year, Volume 4, award-winning editor Rachel Kramer Bussel has gathered the hottest sexy stories starring outspoken women who daringly pursue love and lust.

You'll read about a single mom who goes back to college and gets some very hands-on education from her hot professor, an Amish woman tenderly revealing her most intimate desires, and a woman who crafts the man of her dreams. From outsiders who passionately claim their place without apology to women taking the boldest of risks with their hearts and their bodies, these sizzling stories are sure to make your heart pound.

Featuring stories by popular authors including Alyssa Cole, Megan Hart, Tamsen Parker, Sofia Quintero, and Alessandra Torre, along with a variety newcomers to the genre, these tales will turn you on and stay with you long after you've finished.
Praise For Best Women's Erotica of the Year, Volume 4…
"Kick off your shoes and drop any qualms at the door! Best Women's Erotica of the Year, Volume 4 is a book that's built to inspire! From 'carnal delights' to 'delectable tortures,' each of these journey-filled stories is an irresistible gift just waiting to be unwrapped." --Rose Caraway, host of The Kiss Me Quick's Podcast
— Rose Caraway

"Best Women's Erotica of the Year, Volume 4 will have your heart beating throughout your entire being with its diverse array of thoughtful and tantalizing fantasies. Now, more than ever, we need this book to help harness the undeniable power of women's sexuality and pleasure." --Nicoletta Heidegger, co-host, Sluts & Scholars podcast
— Nicoletta Heidegger

"An enticing mix of tales that are both sensual and thought-provoking." --Caridad Piñeiro, New York Times bestselling author of One Summer Night
— Caridad Piñeiro

"This collection is as diverse as it is exciting--familiar and new, kinky and sweet, fierce and tender--and filled with women from across the spectrum of life's experiences. It's a good thing the book is long, because each story leaves you hungry for more." --Suzanne Krohn, Love in Panels
— Suzanne Krohn

"Best Women's Erotica of the Year, Volume 4 titillates and satisfies, with hot fiction featuring a diverse range of experimenters and experiences. From bar encounters to bucking broncos, from online flirtations to sexy gangbangs, the women in these stories all learn a thrilling lesson--that great rewards can come from taking risks." --Justine Elyot, author of The Story of Jo
— Justine Elyot

"A great collection of short stories full of diversity and sexy fun!" --Leah at Small Queer, Big Opinions
— Leah

"This anthology's inclusion of diverse characters in terms of age, race, kinks, and ability is refreshing and much-needed in erotica; each writer finds a way to adhere to the collection's theme while blissfully breaking the mold. Highly recommended." (Starred Review) --Library Journal, November 15, 2018
— Library Journal

"Rachel Kramer Bussel really knows how to put together a great, sexy collection and I am now officially a convert. I will be reading many, many more in this series." --Irina Gonzalez
— Irina Gonzalez

"Readers, you owe it to yourself to see what sex-positive writing can do for your entertainment and enjoyment... Kudos to Rachel Kramer Bussel for another stellar publication." --Dr. J
— Dr. J

"Written by women, about women, and for women, this book has something to satisfy everyone.Highly erotic with plenty of substance." --Romance Daily News
— Romance Daily News

"The latest of this anthology series includes stories of hetero, gay, and multiple-partner sex in all sorts of exciting scenarios, under the vague theme of "outsiders" and "risk." Everything from a Fifty Shades-ish BDSM story to [a] skydiving short to a wild Halloween orgy on a yacht — no skipping ahead required." —Cosmopolitan
— Cosmopolitan
Cleis Press, 9781627782487, 266pp.
Publication Date: December 11, 2018
About the Author
Rachel Kramer Bussel (rachelkramerbussel.com) is a writer, editor, event organizer, and erotica writing instructor. She's edited over 70 anthologies, including The Big Book of Orgasms, Come Again: Sex Toy Erotica, Dirty Dates, On Fire, Spanked, Please, Sir, and Please, Ma'am, and is the Best Women's Erotica of the Year series editor. Her nonfiction has been published in The New York Times, The Washington Post, Marie Claire, O, The Oprah Magazine, Elle.com, Salon, Slate, Time.com, The Village Voice and numerous other publications. Follow her @raquelita on Twitter and learn more about her writing workshops and consulting at EroticaWriting101.com.
or
Not Currently Available for Direct Purchase