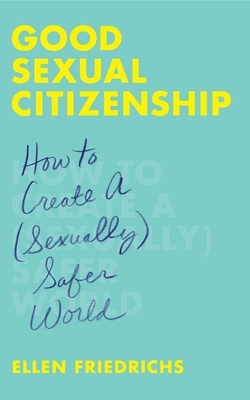 Good Sexual Citizenship
How to Create a (Sexually) Safer World
Paperback

* Individual store prices may vary.
Other Editions of This Title:
Digital Audiobook (9/20/2021)
Description
Most of us want to be decent people in the world. Yet when it comes to sex, we so often stumble and contribute to sexual injustice. Think about it: are we really still blaming victims of sexual assaults? Can it truly be that there is a gender based orgasm gap? Are we actually labeling people based on the kind of sex they do or don't have? Why do we insist on questioning if sex is consensual when someone's passed out drunk?
Our society is undergoing an evolution, and we should take this as a call to action to ensure that all people, regardless of gender identity, sexual orientation, ability, age, ethnicity, race, religion, or social class, are treated as humans worthy of respect.
Good Sexual Citizenship asks us all to break down sexual hostility and build up something better. To promote understanding and empathy, Friedrichs includes a factual and historical backdrop covering gender disparities, women's rights, sexual violence, prevention, and sex education, and challenges readers to use this insight, along with guided exercises, to examine their own potential for "good sexual citizenship." Covering topics like consent, sexual assault, pleasure, double standards, casual sex, hook-up culture, and teen sex, she provides us with tools to navigate societal messages, sexually hostile climates, stereotypes, and outdated mentalities.
This book is written for anyone—but especially educators, parents, fellow students, coworkers, and employers—who have helplessly looked around in the midst of some type of sexual injustice wondering, "What can I do?"
Praise For Good Sexual Citizenship: How to Create a (Sexually) Safer World…
"Good Sexual Citizenship is the book every feminist wishes they had received in health class. Covering everything from harmful gender roles to the nuances of consent, and consistently addressing the most marginalized populations, this book provides a map for exploring sexuality safely and compassionately." —Melissa A. Fabello, PhD, professor of human sexuality studies
— Melissa A. Fabello, PhD

"Inclusive, intersectional, and packed with both important historical data and proactive steps to moving forward, Ellen Friedrichs has written a powerful primer to sexual and social justice. It's the perfect tool for parents, educators, and any reader interested in furthering positive, just, healthy sexuality." — Al Vernacchio, MSEd, Author of For Goodness Sex
— Al Vernacchio

"This fantastic book beautifully and accessibly explains essential information anyone needs to know when navigating sex and relationships in today's world. From novice to expert, it's a must-read." — Elise Schuster, co-founder, okayso
— Elise Schuster

"When the world seems more topsy turvy than usual, it is important to remember that we have the power and responsibility to make it better...and that starts with good sexual citizenship. Friedrichs' playbook lays out the rationale and tools for developing these essential skills. This is the manual you need to build confidence in tackling double standards, building inclusive and equitable environments and relationships, and making the world a safer place for all." — Logan Levkoff, PhD, author, relationship & sexuality educator
— Logan Levkoff

"A must-read for every parent, teacher, or human who has ever felt like our society's relationship to sexuality is flawed and believes we all deserve a healthier and more empowering culture around sexuality. Ellen Friedrichs shares practical, actionable steps we can all take to make that new culture a reality." — Julia Feldman, founder of Giving the Talk
— Julia Feldman
Cleis Press, 9781627782876, 240pp.
Publication Date: September 24, 2019
About the Author
Ellen Friedrichs is a health educator and writer. She runs a middle and high school health education program for teens, and teaches at Brooklyn College. Her writing has appeared in the Washington Post, the HuffPost, Rewire News, everydayfeminism.com, and gURL.com. Currently, she answers sex and relationship questions on the Okayso app. Follow her on twitter and Instagram @ellenkatef.
or
Not Currently Available for Direct Purchase