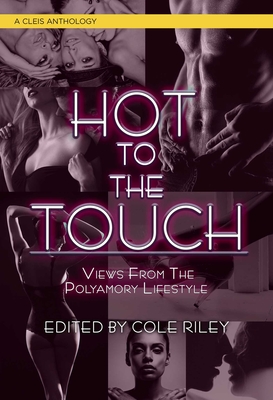 Hot to the Touch (Paperback)
Views from the Polyamory Lifestyle
Cleis Press, 9781627782975, 224pp.
Publication Date: April 14, 2020
* Individual store prices may vary.
Description
It doesn't matter what you heard in the past, because Hot to the Touch: Views from the Polyamory Lifestyle is changing the rules. Three isn't a crowd anymore—it's the most erotic party your x-rated mind can imagine!

This new collection from well-known editor Cole Riley propels readers into the heads, hearts, and libidos of lovers committed to the Poly Life, open relationships, open communication, and open bedroom doors. With stories from those just beginning to explore the poly lifestyle to those that have years of experience pleasing multiple partners—in or out of the bedroom, together or separately—this collection will arouse your senses and make you yearn for your own menagerie of sexual partners, lovers, and so much more.



Table of Contents

Meet My Husband - Janine Ashbless

Ghost Swinger - Amanda Earl

The Dinner Party - Remittance Girl

Because of Bingo - Rebecca M. Kyle

Bob & Carol & Ted (But Not Alice) - M. Christian

Homecoming - Teresa Noelle Roberts

Snakefruit - Anne Tourney

Him - Sommer Madsen

Speed Play - Abigail Ekue

Between Two Lovers - Thomas S.. Roche

Reminder - Jeremy Edwards

Sleeper Car - Max Lagos

The Benefit of the Doubt - Cole Riley

One Last Fling - Kristina Wright
About the Author
Cole Riley, an innovative voice in urban literature, produced several early street classics: Hot Snake Nights, Rough Trade, The Devil To Pay, The Killing Kind, Dark Blood Moon, and more recently, Harlem Confidential and Guilty As Sin. His erotica has been featured in many anthologies, including Intimacy and Maxim Jakubowski's The Mammoth Book of Best New Erotica. In literary legend Ishmael Reed's newest book, Mixing It Up, Riley is cited as one of the influences on top-notch crime scribes Richard Price, George Pelacanos, and others. He lives and writes in New York City.