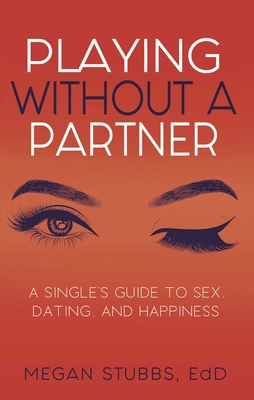 Playing Without a Partner
A Singles' Guide to Sex, Dating, and Happiness
Paperback

* Individual store prices may vary.
Description
Are you single and loving it? …or single and loathing it?

Erase the stigma of singledom and embrace your solo self with sexologist Megan Stubbs' comprehensive guide to all the best parts about going it alone—from fulfilling authentic personal goals to becoming your own best friend in the bedroom. She offers expert insight on modern dating, orgasm anatomy, exploring kinks, better understanding your body, and even how best to have sex with strangers, all peppered with hilarious anecdotes from her own experiences as a fiercely single woman.

Whether you're contentedly single or still searching for your one and only, Playing Without a Partner will empower you to own and explore yourself, both inside and out, between the sheets and beyond.
Praise For Playing Without a Partner: A Singles' Guide to Sex, Dating, and Happiness…
Exceptionally 'reader friendly' in tone, commentary, organization and presentation, "Playing Without a Partner: A Singles' Guide to Sex, Dating, and Happiness" is a life-changing, life-enhancing, life-celebrating compendium of practical advice, inspirational motivating, and DIY encouragement.
— Midwest Book Review

This is a book that I've been waiting for someone to write, and Megan was the perfect person to write it! With humor and insight, she disrupts the narratives that are used to hold unpartnered people back and dares us to reimagine singledom. Playing Without a Partner debunks one of the most insidious myths about the solo life--the idea that you don't have access to intimacy. This book serves as a reminder that the most important relationship you'll ever have is with yourself, so make sure it's a good one!
— Anita Little, sex editor at Playboy

Hilarious and heartfelt, Stubbs weaves science and stories from her past to create a journey that will make anyone, single or partnered, feel better about themselves.
— Meika Hollender, Co-Founder of Sustain and Author of 'Get on Top'

An empowering, fun read! This book not only provides valuable advice for leveling up your sex life — whether solo or with a partner — but also the tools to improve your emotional and physical wellbeing in myriad ways.
— Emmy Favilla, author of A World Without "Whom"

Single or not single, Playing Without A Partner, is a must-have for the bookshelf. Not only does Megan offer a relatable, funny and (very) direct take on embracing your sexuality, she makes taboo topics feel not-so-taboo anymore!
— Bethany C. Meyers, Founder and CEO of the be.come project
Cleis Press, 9781627783040, 250pp.
Publication Date: May 11, 2021
About the Author
Megan Stubbs is a sexologist, relationships expert, and body image specialist. With her degrees in biology and human sexuality, she is able to combine two of her favorite things, science and sex, into a cohesive platform to impact her audience. She is mindful of inclusion and brings a sensitivity to ethnic diversity rooted in her own complex heritage. She believes that sex should be fun and uses her lighthearted, intelligent, and humorous delivery to make it happen. She has been featured in many popular outlets including Playboy, Cosmopolitan, Glamour, Self, Men's Health, Woman's Health, and Bustle to name a few.