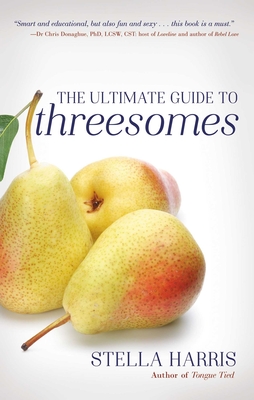 The Ultimate Guide to Threesomes
Paperback

* Individual store prices may vary.
Description
Everything you've ever wanted to know about how to have a threesome—plus everything you'd never think to ask! The Ultimate Guide to Threesomes will teach you how to have ethical, consensual encounters that give pleasure to everyone involved.

Fantasy exploration, finding threesome partners, making your dreams come true—sex educator Stella Harris guides you through the whole process. You'll also find plenty of positions and scenarios for beginners and veterans alike, plus information about safer sex and aftercare. And if you want threesomes to stay a fantasy? That's okay too! This book teaches how to use threesomes in dirty talk and role play.

Whether you're just starting out on your threesome journey, or you've been having threesomes for years, you'll find something here to suit your needs. Harris is used to hearing, "Wow, I never thought of that!"—what new ideas will you find in these pages?
Praise For The Ultimate Guide to Threesomes…
Smart and educational, but also fun and sexy, The Ultimate Guide to Threesomes provides all the needed information for those looking to expand sexually. Many books about sexual exploration fail to provide good information and also don't understand the art and skill of sex. Focusing on how to meet, negotiation, and even pitfalls and aftercare, this book is a must.
— Dr Chris Donaghue, PhD, LCSW, CST: host of Loveline and author of Rebel Love

Stella Harris is one of the wisest sex educators and savviest storytellers around! I've had a lot of 'A-Ha!' moments from Stella. Who better to tackle the fascinating nuances, pitfalls and joys of sexual and romantic adventures endeavored in threes!
— Kevin Allison, creator and host of the hit podcast, Risk!

This book is long overdue. Threesome how-tos are some of the top requests we get from our listeners, and Stella Harris's new book goes above and beyond the ever-juicy topic of threesomes by creating a playful yet informative guide for nonmonogamy
— Amy Baldwin, Co-Host of the Shameless Sex Podcast

Riveting, practical and full of illustrative stories, this book is indeed the ultimate guide! Harris writes with authority, practicality, and empathy, presenting threesomes as pleasurable adventures that can take many, many forms and need not be for everyone. If threesomes are your (smoldering) cuppa, or you think they might be, this book is essential reading.
— August McLaughlin, author of Girl Boner and host of Girl Boner Radio

Practical, useful advice from a woman who's been there. . . Stella answers every question about threesomes, including ones you didn't even know you had.
— Allison Moon, author of Girl Sex 101 and Getting It

The Ultimate Guide to Threesomes is expertly written, organized and presented -- making it an especially recommended addition to personal and professional Human Sexuality collections and supplemental studies reading lists
— Midwest Book Review
Cleis Press, 9781627783071, 276pp.
Publication Date: March 9, 2021
About the Author
Stella Harris is changing the way people experience their sex lives. As a certified intimacy educator and sex coach, she gives her students the tools and confidence to explore their sexuality safely and free of shame. A national and international speaker, Harris teaches everything from pleasure anatomy, to communication skills, to kink and BDSM. Harris writes a weekly sex advice column for Portland's Willamette Week newspaper and her erotic fiction has appeared in more than a dozen anthologies.