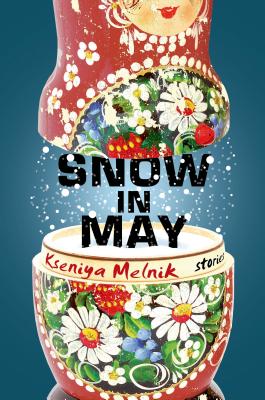 Snow in May
Stories
Hardcover

* Individual store prices may vary.
Description
A Minneapolis Star Tribune Best Book of 2014 • Recommended by The New Yorker, The New York Public Library, Alan Cheuse of NPR, Grantland • Shortlisted for the 2014 International Dylan Thomas Prize • Longlisted for the Frank O'Connor International Short Story Award
A "ruminative…lovely…accomplished" (The New York Times Book Review) and "touching" (The Seattle Times) debut collection of stories that "sparkles with the brilliance and charm of Chekhov." (Simon Van Booy, award-winning author of Love Begins in Winter and The Illusion of Separateness)
Kseniya Melnik's Snow in May introduces a cast of characters bound by their relationship to the port town of Magadan in Russia's Far East, a former gateway for prisoners assigned to Stalin's forced-labor camps. Comprised of a surprising mix of newly minted professionals, ex-prisoners, intellectuals, musicians, and faithful Party workers, the community is vibrant and resilient and life in Magadan thrives even under the cover of near-perpetual snow. By blending history and fable, each of Melnik's stories transports us somewhere completely new: a married Magadan woman considers a proposition from an Italian footballer in '70s Moscow; an ailing young girl visits a witch doctor's house where nothing is as it seems; a middle-aged dance teacher is entranced by a new student's raw talent; a former Soviet boss tells his granddaughter the story of a thorny friendship; and a woman in 1958 jumps into a marriage with an army officer far too soon.
Weaving in and out of the last half of the twentieth century, Snow in May is an inventive, gorgeously rendered, and touching portrait of lives lived on the periphery where, despite their isolation—and perhaps because of it—the most seemingly insignificant moments can be beautiful, haunting, and effervescent.a
Praise For Snow in May: Stories…
"Ruminative...Lovely...Accomplished...'Snow in May' takes us deep into the complex fabric of Magadan, an isolated fishing and mining town in the northern reaches of Russia that once served as a transit center for prisoners dispatched to Stalin's labor camps. With this rich setting as backdrop, Melnik's characters--young and old, male and female--live quiet lives burdened by the constant weight of conflict." —New York Times Book Review
"Fabulous…In beautifully narrated story after story, we get an art boutique version of something we might call "Real Housewives of Siberia" before Glasnost and after. Along with keenly composed stories, Melnik gives us beautiful images… [like] when a woman named Tonya recalls how as a young girl she sat on the bank of the Volga River and lifted up her eyes in time to see the last sunray strike a little fire on the golden cupola of a country church on the opposite bank. Although her future seemed vague, it's every mysterious facet glimmered with light and possibility. As does the literary career of wonderful new story writer, Kseniya Melnik." —Alan Cheuse, NPR "All Things Considered"
"Touching...These stories might be inspired by a place most of us have never heard of, but they come from straight the heart." —Seattle Times
"Melnik beautifully captures this stark, forbidding world." —New York Public Library, Book Notes
"A powerful achievement... [Melnik] writes evocatively of the textures, smells and bone-chilling temperatures of this exotic land in prose that is burnished and precise." —San Francisco Chronicle
"Exceptional...magical...By recollecting the past, [Melnik] has discovered a deep mine of beauty and sadness." —Minneapolis Star Tribune
"It may be a collection of nine stories, but Kseniya Melnik's debut, Snow in May, has the thematic breadth and cohesion of a novel…. It's an impressive thing, the way Melnik is able to evoke so much from a landscape of frozen tundra." —Grantland
"These stories sparkle with the brilliance and charm of Chekhov--while possessing a modern grace and rare intimacy that are unique to the literary talent of Kseniya Melnik." —Simon Van Booy, award-winning author of Love Begins in Winter and The Illusion of Separateness
"Kseniya Melnik's beautiful Snow in May is an education in how history is routed, refracted, and reconciled inside the human heart. In sonorous, evocative prose, the triumphs and tragedies of Magadan are vividly brought to life. In 1890, Chekhov traveled to the Russian Far East--had he made the journey a century later, and gone a little farther north, these stories may well have been the result." —Anthony Marra, author of the bestselling and award-winning A Constellation of Vital Phenomena
"In her first book, Melnik's nine tender, linked stories comprise a stark mural painted against the backdrop of political change in late-twentieth-century Russia and the Soviet Union, images only a Russian could craft…It's difficult to pick a favorite among Melnik's striking tales." —Booklist, starred review
"Achingly beautiful, this collection signals a writer to watch." —Kirkus Reviews, starred review
"Melnik tackles tragic subject matter while dramatizing daily struggles, giving equal weight to both. With dry humor and detailed description, Melnik creates a historically enlightening time capsule of an unfamiliar world." —Publishers Weekly
"Kseniya Melnik's assured debut Snow in May is a book about extremes. In the Russian Far East, her characters cope with extreme weather, extreme punishment and deprivation, and extreme change as the USSR falls apart. These stories are a wonderful introduction to late-twentieth-century Russia and to Kseniya Melnik, a talent for the twenty-first century." —Elliott Holt, author of You Are One of Them
"Like some improbable magician of the mundane, Kseniya Melnik waves her literary wand over drab Soviet cities and their unsmiling denizens and the world cracks into color. A moldering Khrushchyovka, an endless line for an ill-fitting dress, a dance studio in disrepair all form a key to mysterious interior landscapes teeming with hope, heartbreak, and the ever-tantalizing prospect of salvation. Snow in May is like that fabled snow globe of your dreams-- to open it is to be transfixed." —Alina Simone, author of You Must Go and Win and Note to Self
"Kseniya Melnik's stories are full and expansive in the way of Alice Munro's; the reader is pulled under, willingly, into seedy and sensual worlds, like 70s Moscow and a Russian military base. Melnik's characters long for happiness and stability and face morally complex lives, the threat of menace and failure just around the corner. To read her striking, original work is to be enchanted and utterly transported." —Megan Mayhew Bergman, author of Birds of a Lesser Paradise
"Snow in May does more than herald a new writer of talent; it coheres, it radiates heat, and it's the best story collection you'll read this year. If Kseniya Melnik writes prose the way it should be written, that is ecstatically (to borrow Updike's phrase), maybe it's because she shares some of Nabokov's pedigree. But her talent is her own." —Darin Strauss, bestselling author of Half a Life and Chang and Eng
"Kseniya Melnik's breathtaking debut, Snow in May, is extraordinarily perceptive about how landscape shapes us--and continues to shape us long after we have left it. Though the stories revolve around haunted, wintry Magadan, they are anything but cold. Alight with wry humor and compassion and complex truths about the conditions of the soul, Melnik's tales burn with life." —Laura van den Berg, author of The Isle of Youth
"Spanning the second half of the 20th century, these haunting stories depict the struggles of disparate characters working to escape the dark history of a Siberian outpost. Here are lives filled with palpable yearning. A beautiful and assured debut." —Jennifer Vanderbes, author of Easter Island and The Secret of Raven Point
"Funny and sad, tender and tough, Melnik's stories reveal a writer who is wise and insightful beyond her years. Melnik's grasp of the realities of the twentieth century Russian Far East is startlingly accurate, but these stories are not anthropological studies - the characters transcend the setting, and they will break your heart." —Anya Ulinich, author of Petropolis
"Melnik is very talented, and this is an unerringly assured and dextrous first book. It's a big compliment when I say it merits comparison to Jennifer Egan's wonderful A Visit from the Goon Squad – the way perspectives prismatically glide from character to character and era to era, showing the simultaneously redemptive and remorseless work of Time in lucid and elaborate cross-section. Needless to say, though each story works on its own, they build beautifully together. The writing itself is achieved, finished, and gleams with unexpected imagery, gorgeous idiomatic reconfigurations of clichés and memorable aphorisms." —Colin Barrett, author of Young Skins
Henry Holt and Co., 9781627790079, 288pp.
Publication Date: May 13, 2014
About the Author
Kseniya Melnik was born in Magadan, in the northeast of Russia, and immigrated to Alaska at age fifteen. She earned an MFA from New York University and her work has appeared in The Brooklyn Rail, Epoch, Prospect (UK), Virginia Quarterly Review, and was selected for Granta Magazine's New Voices series. She is the author of Snow in May. She lives in El Paso, Texas.
Coverage from NPR
or
Not Currently Available for Direct Purchase