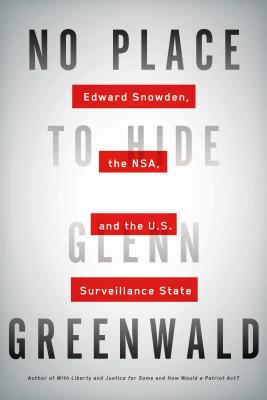 No Place to Hide
Edward Snowden, the NSA, and the U.S. Surveillance State
Hardcover

* Individual store prices may vary.
Other Editions of This Title:
Paperback (4/28/2015)
Paperback, Chinese (6/20/2014)
Paperback, Japanese (5/1/2014)
Paperback, Chinese (5/13/2014)
Compact Disc (12/9/2014)
Description
The New York Times Bestseller

In May 2013, Glenn Greenwald set out for Hong Kong to meet an anonymous source who claimed to have astonishing evidence of pervasive government spying and insisted on communicating only through heavily encrypted channels. That source turned out to be the 29-year-old NSA contractor and whistleblower Edward Snowden, and his revelations about the agency's widespread, systemic overreach proved to be some of the most explosive and consequential news in recent history, triggering a fierce debate over national security and information privacy. As the arguments rage on and the government considers various proposals for reform, it is clear that we have yet to see the full impact of Snowden's disclosures.

Now for the first time, Greenwald fits all the pieces together, recounting his high-intensity ten-day trip to Hong Kong, examining the broader implications of the surveillance detailed in his reporting for The Guardian, and revealing fresh information on the NSA's unprecedented abuse of power with never-before-seen documents entrusted to him by Snowden himself.

Going beyond NSA specifics, Greenwald also takes on the establishment media, excoriating their habitual avoidance of adversarial reporting on the government and their failure to serve the interests of the people. Finally, he asks what it means both for individuals and for a nation's political health when a government pries so invasively into the private lives of its citizens—and considers what safeguards and forms of oversight are necessary to protect democracy in the digital age. Coming at a landmark moment in American history, No Place to Hide is a fearless, incisive, and essential contribution to our understanding of the U.S. surveillance state.
Praise For No Place to Hide: Edward Snowden, the NSA, and the U.S. Surveillance State…
"Impassioned . . . gripping . . . Greenwald amplifies our understanding of the N.S.A.'s sweeping ambitions . . . and delivers a fierce argument in defense of the right of privacy." —Michiko Kakutani, The New York Times

"Rings with authority . . . vital for anyone interested in civil liberties . . . this book is an antidote to the common public perception that government spooks are only interested in 'bad' people." —Chicago Tribune

"Incisive, slashing . . . Greenwald's pugilistic skills are on full display . . . If you want to get a handle on what was at stake when Snowden downloaded the government's most precious secrets onto a thumb drive, this book is your primer." —Slate

"Provides an excellent overview of the NSA's still-classified activities and lack of legal controls, putting the pieces together in a way that daily journalism cannot." —The Economist

"A vital discussion on Snowden's revelations." —Los Angeles Times

"Reads like a thriller . . . With heart-pounding suspense, John le Carre-like intrigue and Jeffersonian fidelity to the principles of human freedom . . . No Place to Hide is also a morality tale about the personal courage required of Snowden and Greenwald and his colleagues to expose government wrongdoing and the risk to their lives, liberties and properties in doing so." —Judge Andrew P. Napolitano, FOX News

"Shocking . . . It is hard to argue with Greenwald's contention that 'the NSA is the definitive rogue agency.'" —The Christian Science Monitor

"A fascinating read that adds much to the debate on national security and privacy." —Los Angeles Review of Books

"Pulse-pounding." —Wired

"A smart, impassioned indictment of what Greenwald calls 'fear-driven, obsequious journalism.'" —San Francisco Chronicle

"A compelling narrative that puts the most explosive revelations about official criminality into vital context . . . The book ends with a beautiful, barn-burning coda in which Greenwald sets out his case for a society free from surveillance. It reads like the transcript of a particularly memorable speech--an 'I have a dream' speech; a 'Blood, sweat, toil and tears' speech. . . . It's a speech I hope to hear Greenwald deliver himself someday." —Cory Doctorow, Boing Boing

"Eloquent . . . powerful . . . Greenwald makes a persuasive case that this is a battle that has engulfed us all, and one that has not yet ended" —VICE
Metropolitan Books, 9781627790734, 272pp.
Publication Date: May 13, 2014
About the Author
Glenn Greenwald is the author of several bestsellers, including How Would a Patriot Act? and With Liberty and Justice for Some. Acclaimed as one of the 25 most influential political commentators by The Atlantic, one of America's top 10 opinion writers by Newsweek, and one of the Top 100 Global Thinkers for 2013 by Foreign Policy, Greenwald is a former constitutional law and civil rights litigator. He was a columnist for The Guardian until October 2013 and is now a founding editor of a new media outlet, The Intercept.. He is a frequent guest on CNN, MSNBC, and various other television and radio outlets. He has won numerous awards for his NSA reporting, including the 2013 Polk Award for national security reporting, the top 2013 investigative journalism award from the Online News Association, the Esso Award for Excellence in Reporting (the Brazilian equivalent of the Pulitzer Prize), and the 2013 Pioneer Award from Electronic Frontier Foundation. He also received the first annual I. F. Stone Award for Independent Journalism in 2009 and a 2010 Online Journalism Award for his investigative work on the arrest and detention of Chelsea Manning. In 2013, Greenwald led the Guardian reporting that was awarded the Pulitzer Prize for public service.
Coverage from NPR
or
Not Currently Available for Direct Purchase