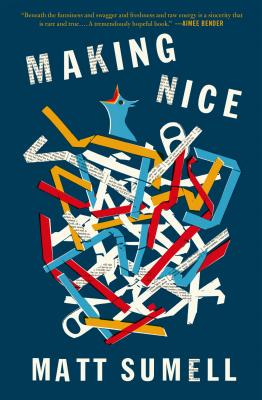 Making Nice (Hardcover)
Short Fiction
Henry Holt & Company, 9781627790932, 240pp.
Publication Date: February 17, 2015
* Individual store prices may vary.
Description

Named a book of the year by BUSTLE and ELECTRIC LITERATURE

"Alby is Holden Caulfield in the Internet age..." --Los Angeles Times

Hailed as "indelible" by Entertainment Weekly, a "cringe-inducingly funny" (The Wall Street Journal) gut-punch of a debut about love, grief, and family "unleashes one of the most comically arresting voices this side of Sam Lipsyte's Homeland" (Publishers Weekly, starred review)
In Matt Sumell's blazing first book, our hero Alby flails wildly against the world around him--he punches his sister (she deserved it), "unprotectos" broads (they deserved it and liked it), gets drunk and picks fights (all deserved), defends defenseless creatures both large and small, and spews insults at children, slow drivers, old ladies, and every single surviving member of his family. In each of these stories Alby distills the anguish, the terror, the humor, and the strange grace--or lack of--he experiences in the aftermath of his mother's death. Swirling at the center of Alby's rage is a grief so big, so profound, it might swallow him whole. As he drinks, screws, and jokes his way through his pain and heartache, Alby's anger, his kindness, and his capacity for good bubble up when he (and we) least expect it. Sumell delivers "a naked rendering of a heart sorting through its broken pieces to survive.*"
Making Nice is a powerful, full-steam-ahead ride that will keep you laughing even as you try to catch your breath; a new classic about love, loss, and the fine line between grappling through grief and fighting for (and with) the only family you've got.
*Mark Richard
About the Author
Matt Sumell is a graduate of UC Irvine's MFA program, and his fiction has since appeared in Esquire, the Paris Review, Electric Literature, One Story, Noon, and elsewhere. He lives in Los Angeles, California. Making Nice is his first book.
Coverage from NPR
or
Not Currently Available for Direct Purchase