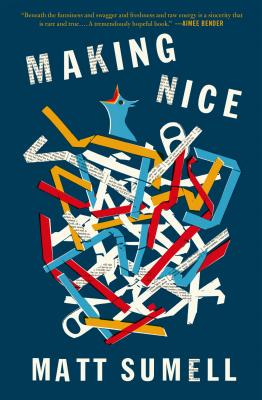 Making Nice
A Novel in Stories
Hardcover

* Individual store prices may vary.
Other Editions of This Title:
Paperback (2/9/2016)
Description

Named a book of the year by BUSTLE and ELECTRIC LITERATURE

"Alby is Holden Caulfield in the Internet age..." --Los Angeles Times

Hailed as "indelible" by Entertainment Weekly, a "cringe-inducingly funny" (The Wall Street Journal) gut-punch of a debut about love, grief, and family "unleashes one of the most comically arresting voices this side of Sam Lipsyte's Homeland" (Publishers Weekly, starred review)
In Matt Sumell's blazing first book, our hero Alby flails wildly against the world around him—he punches his sister (she deserved it), "unprotectos" broads (they deserved it and liked it), gets drunk and picks fights (all deserved), defends defenseless creatures both large and small, and spews insults at children, slow drivers, old ladies, and every single surviving member of his family. In each of these stories Alby distills the anguish, the terror, the humor, and the strange grace—or lack of—he experiences in the aftermath of his mother's death. Swirling at the center of Alby's rage is a grief so big, so profound, it might swallow him whole. As he drinks, screws, and jokes his way through his pain and heartache, Alby's anger, his kindness, and his capacity for good bubble up when he (and we) least expect it. Sumell delivers "a naked rendering of a heart sorting through its broken pieces to survive.*"
Making Nice is a powerful, full-steam-ahead ride that will keep you laughing even as you try to catch your breath; a new classic about love, loss, and the fine line between grappling through grief and fighting for (and with) the only family you've got.
*Mark Richard
Praise For Making Nice: A Novel in Stories…
"Propulsive... Sumell's language is sharp and funny and unrelenting, but his best trick is to make the reader forget how unwittingly cruel Alby can be by offering up unexpected scenes of deep and sorrowful humanity. Then, just as the reader begins warming to him, Sumell reminds us of Alby's inability to make nice.... By the end, Sumell makes a convincing argument that sometimes 'sharp pain is better than an ache.'
" —Manuel Gonzales, The New York Times Book Review
"Making Nice has an anarchic humour and a goofy, ingenuous humanity that makes every page feel new.... In its rampage to nowhere, Making Nice achieves the remarkable feat of making it feel better to travel hopelessly than to arrive." —The Guardian
"Funny and moving...a confident debut with a strong and youthful voice that refuses to accept life's injustices." —The Irish Times
"Mr. Sumell's savage humor is thrilling, and Alby (who never speaks without his foot in his mouth) is loathsome, exasperating and endearing all at once." —New York Times
"Alby is Holden Caulfield in the Internet age: a central character unable to see past his own pain and hell-bent on flaming anyone before they can get too close.... The repetitive nature of his lashing out makes this brash tale both fun to read and one that will stick with the reader for its painful honesty.... Sumell gets closer to the heart of loss than many writers.... Making Nice is a profane, angry screed of a novel, but Sumell's care when wielding Alby's brash voice shows a kind of skill focused on getting closest to his character's distress." —The Los Angeles Times
"Making Nice by Matt Sumell got me through OSCAR preparation week. A terrific read and one of my favorites this year.... Check it out!" —Tegan and Sara on Instagram, March 18, 2015
"Alby is an ass, who knows he is an ass, and tries not to be an ass, but is still, triumphantly, an ass." —Literary Review
"Cringe-inducingly funny...linked by Alby's oddly endearing ineptitude, his constantly lowering expectations and the solace he takes when, for a brief moment or two, life becomes 'something a little less than bad.'" —Wall Street Journal
"Darkly funny...Matt Sumell's coarse tone belies tender insight into grief." —US Weekly
"Sumell's strong debut...in which his wounded protagonist Alby lashes out hilariously and pathetically against men, women, siblings, toasters, garbage cans, and life itself. Like Stanley Kowalski without the proletarian nobleness-or barely acceptable social skills, for that matter-Alby is a punch-first, ask questions-never kind of galoot." —Entertainment Weekly
"Perfectly-pitched and grandly careening prose... The best [of the stories] will choke you on your own laughter and sucker punch you in the heart." —Justin Taylor, Barnes and Noble Review
"Oh boy .... I'm going to ask you to buy this. I'm going to urge you to get this book into your life.... I think Matt Sumell is the greatest fiction writer publishing today...His book is so good it sort of made me believe that, as a writer, you can still do something better than what's been done before. It also made me want to quit writing fiction because I'll never write something this good... I haven't read a voice this sure of itself, a voice this pure, since Salinger, no shit" —Jacob Tomsky, ShortStoryThursdays.com
"Sumell's shrapnel-sharp sense of humor is never more than a sentence away. By the time you're finished, you'll want more of Alby, which is good because his creator's just getting started." —GQ
"Making Nice is hilarious in its prose, but painful in its nakedness." —The Paris Review Daily
"Download Matt Sumell's weird, horrifying, savage new novel, Making Nice. It has nothing at all to do with food (the narrator eats Hot Pockets), and we'll leave the real reviewing to the big kids in Culture, but it reads in our kitchen as funny and violent and filled with grief and love." —Sam Sifton, New York Times
"A wickedly funny anti-hero for the millennial generation, Alby's stories will have you crying from laughter to heartbreak in a page." —Neon Tommy
"The talented Sumell infuses the 20 linked stories in his first collection with the full emotional range of grief. Alby, his narrator, is infuriating and touching by turn, a young man stripped raw by his mother's death and tempted into misbehaviour at every turn...Making Nice introduces a writer who can be both tough and heartbreakingly tender." —Jane Ciabattari, BBC.COM "10 Books to Read in February"
"Alby is absolutely fantastic-Matt Sumell has created one of the most memorable and pathetic characters in recent contemporary fiction, and his dysfunctional family belongs in the hall of fame for all-time literary train wrecks." —Fiction Advocate
"The main character in Matt Sumell's boozy debut, Making Nice, is both tender and hard. You're gonna love it...and hate him?" —Isaac Fitzgerald, Buzzfeed Books "6Second Book Review"
"Unforgettable…The stories, narrated by the same character, Alby, about existing in the wake of his mother's death are hilarious, wrenching, dirty, and heartbreaking all at once -- I'm not entirely sure how Sumell pulls it off, but he does. Watch this book soar." —Bustle's "Most Anticipated Books of 2015"
"Sumell's compulsively readable novel in stories introduces a restless underachiever as irresistible as he is detestable, surely one of the most morally, violently, socially complex personalities in recent literature…. Sumell's debut is humbly macho, provoking outrage, pity, and finally tenderness. Perhaps this is a book readers will hate to love, but only because it feels, like Alby, all too real." —Booklist, Starred Review
"From the first page, Sumell's exceptional novel in stories unleashes one of the most comically arresting voices this side of Sam Lipsyte's Homeland...Sumell's debut demonstrates an almost painful compassion for the sinner in most of us, making Making Nice even more fun than eavesdropping in a confession booth." —Publisher's Weekly, Starred Review
"A wickedly funny, deeply moving gut punch of a book." —Jess Walter, author of Beautiful Ruins and We Live in Water
"Making Nice will grab you by the throat, raise your blood pressure, and cause you to crack up in a crowd. It will also break your heart. When they're writing the history of the best characters of our time, Alby will be there, telling the others to get in line." —Matthew Thomas, bestselling author of We Are Not Ourselves
"Sumell nails something about his generation which is feat enough, but beneath the funniness and swagger and freshness and raw energy is a sincerity that is rare and true. In that way in particular I find this to be a tremendously hopeful book." —Aimee Bender, author of The Girl In the Flammable Skirt and The Color Master
"With Barry Hannah's death, I thought I'd never hear a new, real, hard voice again, a James Dickey kind of voice, a 'wild to be wreckage forever' sound that makes a reader shout hurrah! Ferocious, fearless, extremely pitched fiction is near extinction. May the gust of Matt Sumell's brilliant book Making Nice remind readers of what great work delivers: humor and cruelty, horror and heartwreck in contemporary work written for all time." —Christine Schutt, author of Florida and Prosperous Friends
"Sumell offers a first collection linked by antihero Alby, who does anything but make nice. Destroyed by his mother's death, he takes out his feelings on other family members, slow drivers, children, old ladies--anyone who gets in his way. Not a portrait of nastiness but of how sometimes we can be utterly bent by grief and rage." —Barbara Hoffert, Library Journal *Ten Big Breakout Authors*
"To say that Matt Sumell is an original voice is an immense understatement. Making Nice is ferocious and merciful, comic and heartbreaking. It will turn you inside out." —Ramona Ausubel, author of No One is Here Except All of Us and A Guide to Being Born
"The self-destructive narrator of these stories lashes out with reckless intimacy, random violence, and an often hilarious misplaced rage that shoots to wound rather than kill. What saves its victims and the reader is a naked rendering of a heart sorting through its broken pieces to survive. The result is an eloquent empathy, an uplift of hope-filled grace." —Mark Richard, author of Charity and House of Prayer No. 2
"There's a special alchemy here that you are going to want to witness as Matt Sumell takes us smartly into each of these stories, offhand and funny, and then the tender heart emerges from the shadows, so tender, and comes at us with a knife. Every story here is two: one the fun, the other the blade." —Ron Carlson, author of A Kind of Flying and Five Skies
"I am astonished by Matt Sumell's performance in Making Nice...Using cunning, reckless rage, and bravura comic timing, Alby kicks death's ass." —Geoffrey Wolff, author of The Duke of Deception and A Day at the Beach
"Sumell's Alby is a character you have not seen before in fiction...Hilarious, offensive, endearing, uncompromising, and brutally honest, he is far too demanding of polite society that one must live life to its most massive fullness, no matter how often he gets bludgeoned, humiliated, and kicked in the groin. Deft and gripping, a book about a fractured family and the fundamentally insane qualities of enduring, insatiable love." —Brad Watson, author of Last Days of the Dog-Men and Aliens in the Prime of their Lives
"[A] bristling new short story collection... Sumell is a gifted conjurer, and his portrait of Alby is brilliantly lifelike.... vivid and heartfelt and animated by a distinctive voice." —Daniel Akst, Newsday
"A wickedly funny anti-hero for the millennial generation, Alby's stories will have you crying from laughter to heartbreak in a page." —Madeleine Remi, Neon Tommy
"Funny and savage stuff." —Edwin Turner, biblioklept.org
"You remember that feeling that comes from a book of fiction that's actually got an emotional risk in play? Like: it's not just language, and it's not just ideas-you can feel a level of blood+guts? That's Making Nice: I teared up at the end, for how desperately Sumell's trying to get Alby where he needs to go, and for how rawly clear Sumell-in prose that's hilarious and both tender and tough perfectly equally-paints everything. It's a ferocious, glorious book, and the only downside is that the thing ends, and, from my vantage point, there's not a single other writer doing stuff this alive and wild, meaning: we're just gonna have to read the hell out of this till Mr. Sumell writes another thing." —Weston Cutter, Corduroy Books
"Sumell may not be the first writer to create sympathy for the devil, but that he manages to effect this change in attitude towards Alby is no mean feat. You begin by shaking your head in disapproval. Then you begin to laugh at him, and before you know it, you begin to feel sorry for him.... Readers willing to meet Sumell half way will find the trip worth their while." —Jack Goodstein, blogcritics.org
"This book is surprising...Matt Sumell lays out this wonderful debut aggressively and with savage observation-and if you make it past the first chapter you'll fly through the rest in a pleasant dash, anxiously peeling back the pages...Violent, comic, and genuine, this book mixes truly relatable experience with the outlandish imaginings of a volatile character at odds with the rest of the world, and will make you cringe, hold your breath, and laugh. Put simply, Making Nice is a lovely book. You should read it." —David Duff, welovethisbook.com
"Funny, powerful... Sumell's surehanded writing makes Alby both fascinating and perversely rootable, not to mention darkly hilarious." —Allie Pape, 7x7
Henry Holt and Co., 9781627790932, 240pp.
Publication Date: February 17, 2015
About the Author

Matt Sumell is a graduate of UC Irvine's MFA program, and his fiction has since appeared in Esquire, the Paris Review, Electric Literature, One Story, Noon, and elsewhere. He is the author of the short story collection Making Nice. He lives in Los Angeles, California.
Coverage from NPR
or
Not Currently Available for Direct Purchase