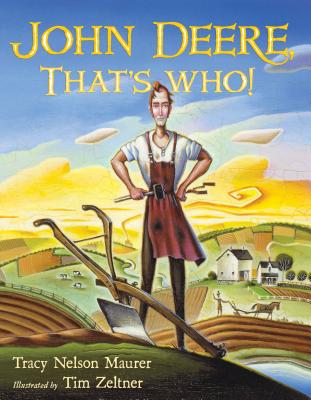 John Deere, That's Who! (Hardcover)
Henry Holt & Company, 9781627791298, 40pp.
Publication Date: March 28, 2017
* Individual store prices may vary.
Description
Back in the 1830s, who was a young blacksmith from Vermont, about to make his mark on American history? John Deere, that's who
Who moved to Illinois, where farmers were struggling to plow through the thick, rich soil they called gumbo? Who tinkered and tweaked and tested until he invented a steel plow that sliced into the prairie easy as you please?
Long before the first tractor, who changed farming forever? John Deere, that's who
Beautiful illustrations--including spectacular landscapes--reflect the time period and bring John Deere's remarkable story to life.
About the Author
Tracy Nelson Maurer is the author of over a hundred books, including many nonfiction books for children. She lives near Minneapolis with her family, and loves to interact with readers on her frequent school and library visits.Tim Zeltner is an award-winning artist and the illustrator of Power Down, Little Robot by Anna Staniszewski and Little Boo by Stephen Wunderli. He lives in Ontario, Canada, with his wife and dog.