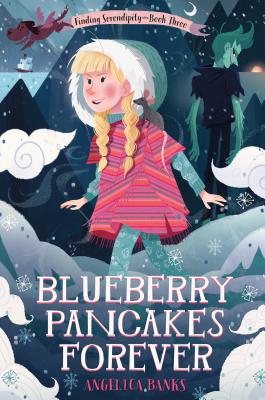 Blueberry Pancakes Forever (Hardcover)
Finding Serendipity Book Three (Tuesday McGillycuddy Adventures)
Henry Holt and Co. (BYR), 9781627791564, 320pp.
Publication Date: February 7, 2017
Other Editions of This Title:
Paperback (2/6/2018)
* Individual store prices may vary.
Description
In this third adventure from the author of Finding Serendipity, Tuesday McGillycuddy must grapple with a new villain in the Land of Story.
After an unthinkable loss, time seems to freeze for Tuesday and her mother, the famous author Serendipity Smith. In the land of story, Vivienne Small's world is frozen too—a perpetual winter has fallen. When a terrible villain takes Vivienne hostage, it's up to Tuesday to save her friend—and herself. On her quest, she'll discover what lies at the bottom of her heart, and at the heart of her writing. Beautifully told with warmth and joy, this great adventure is a celebration of life—and love.
Don't miss this heartwarming conclusion to the Finding Serendipity series!
About the Author
Angelica Banks is not one writer but two. Heather Rose and Danielle Wood are both award-winning authors of adult literary fiction and have been friends for years. They had much more fun than you can imagine writing Finding Serendipity and A Week Without Tuesday and spent a lot of time eating chocolate custard and strawberries.
Praise For Blueberry Pancakes Forever: Finding Serendipity Book Three (Tuesday McGillycuddy Adventures)…
"Richly complex and nourishing." —Kirkus Reviews, starred review, on Blueberry Pancakes Forever
"All the worlds are fully rendered and themes of imagination, courage, family, sacrifice, and friendship are beautifully explored. Fans of Edith Nesbit, Michael Ende's The Neverending Story (1979), and Roderick Townley'sThe Great Good Thing (2001) have a new home with Angelica Banks." —Booklist, starred review on A Week without Tuesday
"Banks's wondrously whimsical language helps transport readers into this imaginative world. . . . Creative young authors as well as fantasy lovers will enjoy this inventive book." —School Library Journal on A Week without Tuesday
"A sparkling children's book debut in a novel that bridges and blurs reality and fantasy . . . With cinematic imagery and keen wit, the authors construct an inventive novel that raises intriguing questions about the relationship between authors and their characters, and reaches 'The End' all too soon." —Publishers Weekly, starred review on Finding Serendipity
"This enchanting story (which may remind readers of the fully imagined worlds created by Edith Nesbit) celebrates the imagination and the connection writers feel with their stories. Spunky characters; spot-on pacing, providing perfectly timed plot revelations; and fully imagined worlds make this a charming winner for curling up with a good book or classroom read-alouds." —Booklist, starred review on Finding Serendipity
"An original, wholehearted affirmation of the written word and the imagination." —Kirkus Reviews on Finding Serendipity
"Banks's story is magically whimsical and filled with adventurous twists that will keep readers turning the pages." —School Library Journal on Finding Serendipity