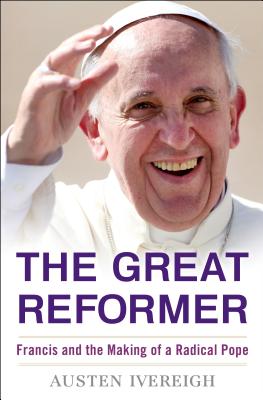 The Great Reformer (Hardcover)
Francis and the Making of a Radical Pope
Henry Holt and Co., 9781627791571, 464pp.
Publication Date: November 25, 2014
Other Editions of This Title:
Digital Audiobook (11/24/2014)
Paperback (8/25/2015)
CD-Audio (11/25/2014)
Pre-Recorded Audio Player (11/25/2014)
* Individual store prices may vary.
Description

A biography of Pope Francis that describes how this revolutionary thinker will use the power of his position to challenge and redirect one of the world's most formidable religions

An expansive and deeply contextual work, at its heart The Great Reformer is about the intersection of faith and politics--the tension between the pope's innovative vision for the Church and the obstacles he faces in an institution still strongly defined by its conservative past. Based on extensive interviews in Argentina and years of study of the Catholic Church, Ivereigh tells the story not only of Jorge Mario Bergoglio, the remarkable man whose background and total commitment to the discernment of God's will transformed him into Pope Francis--but the story of why the Catholic Church chose him as their leader.
With the Francis Revolution just beginning, this biography will provide never-before-explained context on how one man's ambitious program began--and how it will likely end--through an investigation of Francis's youth growing up in Buenos Aires and the dramatic events during the Perón era that shaped his beliefs; his ongoing conflicts and disillusionment with the ensuing doctrines of an authoritarian and militaristic government in the 1970s; how his Jesuit training in Argentina and Chile gave him a unique understanding and advocacy for a "Church of the Poor"; and his rise from Cardinal to the papacy.
About the Author
Austen Ivereigh is a British writer, journalist, and commentator on religious and political affairs who holds a PhD from Oxford University. His work appears regularly in the Jesuit magazine America and in many other periodicals. He is well-known as a Catholic commentator for the BBC, Sky, ITV, and Al-Jazeera.
Praise For The Great Reformer: Francis and the Making of a Radical Pope…
"In Austen Ivereigh's engaging work, we come to more fully learn and appreciate the circumstances and influences that shaped Jorge Bergoglio's journey: first as a young Jesuit leader, then as Archbishop of Buenos Aires, and now as shepherd of over one billion Catholics. The many fascinating events and challenges recounted in The Great Reformer demonstrate that the key to understanding Pope Francis and his vision for the Church begins above all by recognizing his unfailing faith in the love and mercy of Jesus Christ." —Timothy Michael Cardinal Dolan, Archbishop of New York and author of Praying in Rome: Reflections on the Conclave and Electing Pope Francis
"Easily the best treatment of Pope Francis's Argentine background in English, written by someone who knows Catholicism inside and out. Masterful, indispensable, and gripping." —John L. Allen Jr., associate editor, Cruz and The Boston Globe
"Ivereigh has written the best available chronicle of the formative events in the life and thinking of Jorge Mario Bergoglio and demonstrates how his call for a 'Church in permanent mission' extends and deepens the 'New Evangelization' proclaimed by St. John Paul II." —George Weigel, author of Evangelical Catholicism"
"Well written, full of information; this is the best biography of Pope Francis to date." —Thomas Reese, Senior Analyst, National Catholic Reporter and author of Inside the Vatican: The Politics and Organization of the Catholic Church
"Austen Ivereigh paints the story of the momentous papal transition of 2013 with accurate, vivid, graphic, strokes and places the reader in awe before the brilliant canvas of contemporary Church history. The Great Reformer helped me to realize anew the sheer magnitude, power and influence of Benedict's humble and courageous decision and Francis' bold and daring revolution of tenderness inaugurated on March 13, 2013. If you wish to understand Pope Francis, read this book." —Father Thomas Rosica, CSB; CEO, Salt and Light Catholic Media Foundation
"Probing, comprehensive, eminently readable and absorbing . . . In a growing list of books on the first Latin American pope, Ivereigh's is uniquely well informed and persuasive." —Charles J. Chaput, O.F.M. Cap., Archbishop of Philadelphia
"Austen Ivereigh has produced about the best one-volume biography of Pope Francis that you'll find. The Great Reformer explores the fascinating story of Jorge Mario Bergoglio's life in Argentina, with its highlights and shadows. And in explaining where Francis came from, Ivereigh is able to give us a realistic and insightful account of what Bergoglio is up to as pope, and where he is taking the Catholic Church." —David Gibson, national reporter for Religion News Service and author of The Rule of Benedict: Pope Benedict XVI and His Battle with the Modern World
"'You have to be normal,' Pope Francis told the Jesuit Antonio Spadaro, setting the tone for their long interview last summer. 'Life is normal.' This is what's especially remarkable about Austen Ivereigh's biography of Francis: Ivereigh depicts Jorge Mario Bergoglio as an extraordinary figure by showing him in the settings of his 'normal' life, from the Jesuit Colegio Maximo to the bus shelters of Buenos Aires bus to the Casa Santa Marta in Rome. No recent pope has gotten a biography as sensible, as culturally adept, and as attuned to the ongoing moment as this one." —Paul Elie, author of The Life You Save May Be Your Own and Reinventing Bach
"Readers...will revel in the intricate parallels between the personal life of the pope and the socio-political environment he was raised in and inhabits now...A meticulous and lovingly written biography that will please both knowledgeable and amateur readers." —Library Journal
"An admiring defense of the new pope...A quick, efficient job of fairly sketching this extraordinary life." —Kirkus
"Consider this book the cornerstone of any collection on Pope Francis and twenty-first-century Christianity." —Ray Olson, Booklist (STARRED REVIEW)
"[Ivereigh] is the ideal papal biographer...[A] detailed and well-written examination of Pope Francis. ...With its wealth of biographical information that offers an in-depth look at formative influences, this is the best examination of the current pope to date." —Publishers Weekly
"An in-depth picture of Jorge Bergoglio...already being spoken of as the definitive biography of this Pope. Ivereigh[is] uniquely fitted for the task by an Oxford University doctorate that was an investigation into the Church and politics in Argentina between 1930 and 1960. A fluent Spanish speaker, this expertise gained him unrivalled access to the Jesuits in Argentina during his research and enabled him to read everything Pope Francis has ever written. When he went on to attend and report on last month's synod, he had possibly the greatest understanding of any lay person there of what was actually going on, why, and what it would mean." —Christian Today
Coverage from NPR
or
Not Currently Available for Direct Purchase