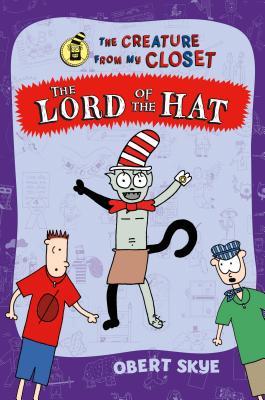 The Lord of the Hat (Hardcover)
Henry Holt & Company, 9781627791625, 256pp.
Publication Date: October 6, 2015
Description
Rob Burnside thinks he's getting the hang of things. It almost seems as if he has learned all he needed to from his unusual closet. Beardy, the doorknob, has it locked up and there are no signs of the closet door opening again.
But something slips from the closet unnoticed and that something is part Gollum, part Cat in the Hat. He's an intense creature with mad rhyming skills. When Rob's family wins a trip to Colorado, something extra makes it into his luggage. Get ready for school fights, train rides, long mysterious hikes, and a creature unlike any of the others. What Rob will discover is epic.
A Christy Ottaviano Book
About the Author
Obert Skye is the author and illustrator of the Creature from My Closet series, including Wonkenstein, Potterwookiee, Pinocula, and Katfish, and the forthcoming Witherwood Reform School. He has also written the bestselling children's fantasy adventure series Leven Thumps and Pillage. He lives with his family in Idaho.
Advertisement