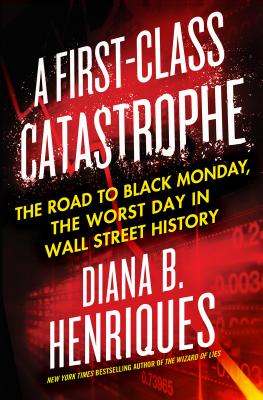 A First-Class Catastrophe (Hardcover)
The Road to Black Monday, the Worst Day in Wall Street History
Henry Holt and Co., 9781627791649, 416pp.
Publication Date: September 19, 2017
Other Editions of This Title:
Compact Disc (9/19/2017)
Compact Disc (9/19/2017)
MP3 CD (9/19/2017)
* Individual store prices may vary.
Description
The definitive account of the crash of 1987, a cautionary tale of how the U.S. financial system nearly collapsed--from the bestselling author of The Wizard of Lies
Monday, October 19, 1987, was by far the worst day in Wall Street history. The market fell 22.6 percent – almost twice as bad as the worst day of 1929 – equal to a one-day loss of nearly 5,000 points today.
Black Monday was more than seven years in the making and threatened nearly every U.S. financial institution. Drawing on superlative archival research and dozens of original interviews Diana B. Henriques weaves a tale of missed opportunities, market delusions, and destructive actions that stretched from the "silver crisis" of 1980 to turf battles in Washington, a poisonous rivalry between the New York Stock Exchange and the Chicago Mercantile Exchange, and the almost-fatal success of two California professors whose idea for reducing market risk spun terribly out of control. As the story hurtles forward, the players struggle to forestall a looming market meltdown and unexpected heroes step in to avert total disaster.
For thirty years, investors, regulators, and bankers have failed to heed the lessons of 1987, even as the same patterns have resurfaced, most spectacularly in the financial crisis of 2008. A First-Class Catastrophe offers a new way of looking not only at the past, but at our financial future as well.
About the Author
Diana B. Henriques is the author of the New York Times bestseller The Wizard of Lies: Bernie Madoff and the Death of Trust, which has been made into an HBO film starring Robert De Niro. A writer for The New York Times since 1989, she is a George Polk Award winner and a Pulitzer Prize finalist. Her work has also received Harvard's Goldsmith Prize for Investigative Reporting and the Worth Bingham Prize, among other honors. She lives in Hoboken, New Jersey.
Praise For A First-Class Catastrophe: The Road to Black Monday, the Worst Day in Wall Street History…
"A valuable and unfailingly interesting account of a crucial two-decade period in Wall Street history. . . .A highly intelligent and perceptive analysis." --Charles R. Morris, author of The Trillian Dollar Meltdown, in The New York Times Book Review

"A first-class cautionary tale that should be on every financial regulator's and policy-maker's desk -- and many an investor, too."--The Washington Post
"A compelling account...rich in interviews and archival research and personalized with vivid descriptions...Her writing is so skillful that even mathematical risk-mitigation techniques and arcane turf wars between regulatory agencies are infused with life."--Burton G. Malkiel in The Wall Street Journal
"The author's journalistic story-telling will bring a deeper understanding of Black Monday to all readers in the same way Andrew Ross Sorkin's 'Too Big to Fail' did for the 2008 crash." --Library Journal
"Diana Henriques has done it again! A First-Class Catastrophe traces, in vivid detail, the human and structural errors that led to the Crash of 1987. It's a remarkable and well-told story. I remember watching grown men cry as they watched the market fall 22.6 percent in one dark October day. Thanks to Henriques's excellent reporting, I now know why."--William D. Cohan, author of House of Cards and Why Wall Street Matters

"[A] confident, fast-paced, and thoroughly researched narrative. . . . It's a must-read for anyone who wants to understand why financial markets lurch from crisis to crisis and are still so frighteningly susceptible to crashes today."--Publishers Weekly

"Solid economic reportage. Investors who remember the events of 30 years ago will blanch all over again, especially at the author's suggestion that worse may be yet to come."--Kirkus Reviews
"Diana Henriques brings to life the reckless hubris of Wall Street in the 1980s, where the brightest and best played with fire, oblivious to the gathering hazards. A First-Class Catastrophe is at once a page-turning story and a sobering lesson for everyone interested in the stock market of today. I wish I had written it."--Bryan Burrough, coauthor of Barbarians at the Gate and author of Days of Rage
"A First-Class Catastrophe is a fast-paced thriller about Black Monday, the day when the Dow Jones Industrial Average lost nearly a quarter of its value. But the book is much more than financial history. It is a tale of unheeded warnings and misguided confidence that is essential reading for anyone who wants to understand how the fault lines in our modern markets came to be."--Bethany McLean, coauthor of The Smartest Guys in the Room and All the Devils Are Here
"A First-Class Catastrophe is a riveting narrative of a market gone haywire. Diana Henriques unpacks the crash of October 19, 1987, to reveal a long series of miscues, miscalculations, and failings that led to what is still, three decades later, the worst day in Wall Street history. And to top it off, she has given us a rollicking good read."--Roger Lowenstein, author of When Genius Failed, The End of Wall Street, and America's Bank