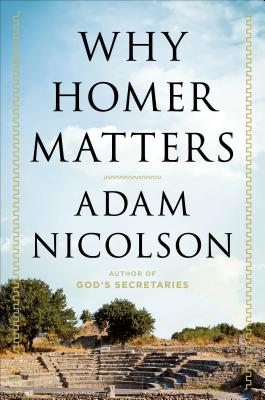 Why Homer Matters (Hardcover)
A History
Henry Holt and Co., 9781627791793, 320pp.
Publication Date: November 18, 2014
Other Editions of This Title:
Compact Disc (3/17/2015)
MP3 CD (3/17/2015)
Paperback (11/10/2015)
* Individual store prices may vary.
Description
"Adam Nicolson writes popular books as popular books used to be, a breeze rather than a scholarly sweat, but humanely erudite, elegantly written, passionately felt…and his excitement is contagious."—James Wood, The New Yorker
Adam Nicolson sees the Iliad and the Odyssey as the foundation myths of Greek—and our—consciousness, collapsing the passage of 4,000 years and making the distant past of the Mediterranean world as immediate to us as the events of our own time.
Why Homer Matters is a magical journey of discovery across wide stretches of the past, sewn together by the poems themselves and their metaphors of life and trouble. Homer's poems occupy, as Adam Nicolson writes "a third space" in the way we relate to the past: not as memory, which lasts no more than three generations, nor as the objective accounts of history, but as epic, invented after memory but before history, poetry which aims "to bind the wounds that time inflicts."
The Homeric poems are among the oldest stories we have, drawing on deep roots in the Eurasian steppes beyond the Black Sea, but emerging at a time around 2000 B.C. when the people who would become the Greeks came south and both clashed and fused with the more sophisticated inhabitants of the Eastern Mediterranean.
The poems, which ask the eternal questions about the individual and the community, honor and service, love and war, tell us how we became who we are.
About the Author
Adam Nicolson is a prize-winning writer of many books on history and nature, including Sea Room, the New York Times bestseller God's Secretaries, and the acclaimed Why Homer Matters. He is winner of the Royal Society of Literature's Ondaatje Prize, the Somerset Maugham Award, the W. H. Heinemann Award, and the British Topography prize. He has written and presented many television series and lives on a farm in Sussex.
Praise For Why Homer Matters: A History…
"Highly accessible…Nicolson's amateurism (in the best, etymological, sense of the word: from the Latin amare, "to love") and globe-trotting passion for his subject is contagious…bringing the heroic age into our own." —New York Times Book Review
"Complex, personal and profound…a brash and brave piece of writing… [Nicolson's] book, filled with the swords and spears that inflict the carnage of the 'Iliad,' can change the way we see ours." —Wall Street Journal
"Stirring… Nicolson eloquently sums up what we still look for in Homer: 'wisdom, his fearless encounter with the dreadful, his love of love and hatred of death, the sheer scale of his embrace, his energy and brightness, his resistance to nostalgia.'" —Washington Post
"If I have a serious complaint about this book, it's that it threatens to be better than Homer -- and I say this as a qualified classicist, who is supposed to be extensively trained for snottiness toward an amateur enthusiast like Nicolson. Against the howl that must be rising from the academy at my judgment, I'm standing my ground." —National Review
"Adam Nicolson's Why Homer Matters is awonderfully sensitive and fascinating meditation on Homer, sailing, the meaning of life, and the power of poetry. The author's erudition is dazzling and discreet." —Louis Begley, author of Memories of a Marriage and About Schmidt
"There is no better explicator of life, of art, and the process by which we experience both than Adam Nicolson. In Why Homer Matters, he is at his eloquent and rapturous best.Through the prism of this great poet, Nicolson has crafted a kind of metaphysical guidebook on how to lead a meaningful life in in a world of terrifying and wondrous change." —Nathaniel Philbrick, author of In the Heart of the Sea and Bunker Hill
"Seldom have I been so moved, inspired, informed and delighted as by Adam Nicolson's elegant explanation of why Homer--so long forgotten in the school-time haze--is so vitally important as a lifetime vade mecum. The author must be one of the last true polymaths standing: his writings--this new book above all--give pleasure beyond compare." —Simon Winchester, author of The Professor and the Madman and The Men Who United the States
"[A] gracefully written and deeply informed book…Nicolson's spirited exploration illuminates our own indelible past." —Kirkus, starred review
"In this passionate, deeply personal book, Nicolson explains why Homer matters--to him, to you, to the world--in a text full of twists, turns, and surprises." —Publishers Weekly
"[A] sprawling, lyrical, and frequently intimate exploration of the epic poet…. In the end, it is Nicolson's passion for his subject that animates this selection and elevates textual explication into a paean." —Booklist
"Vigorous and visceral…The results are at once moving and enlightening." —Financial Times
"Adam Nicolson's books are like beautiful shells encountered in the sand: delicate, rare and wonderful. [Why Homer Matters] is a moving personal musing on Homer--on what he has to say to us today about life and about ourselves." —Alexander McCall Smith, Daily Mail
"Erudite, far-ranging in time and space, and provocative ... This rich and adventurous book is Nicolson's own odyssey, a wide-eyed ramble around the ancient world and through the centuries ... Nicolson's enthusiasm [is] enriching and his examination of the character of the two epics acute and fascinating." —Allan Massie, Literary Review
"As gripping as a thriller and as delicately constructed as a sonnet … an astonishing tour de force that reveals Homer to be at once as ancient as papyrus and as modern as MTV … in dealing with the body-thudding side of epic Nicolson proves to be in his element … Not only does he have an inward understanding of how Homer's poetry works, his own prose also has the sharp glitter of a poet's eye" —The Telegraph
"Nicolson's brilliant, passionate, world-wandering love letter to Homer … his close readings are wonderful and his heady romanticism is far more inspirational than any dry academic exegesis. If the only real test of any book about Homer is that it should make you want to go back to Homer, then [Why Homer Matters] passes that test in a blaze of glory" —Sunday Times
"Nicolson has written the book that was waiting to be written … a superbly written account of the poems" —The Times
"A joy to read" —Evening Standard
"A hosanna to Homeric wandering and wanderlust … breathes new life into an ancient adventure" —Observer
"A beautiful study: full of insight, generosity and unaffected passion. The writing is exhilarating. There is a wonderful sense of a community of readers of Homer handing on their insights through two millennia – of the dead talking to the living, of the taking up of a conversation that has never quieted" —Guardian
"A thrillingly energized book that travels to the real-life locations of the action … at the molecular level, it transmits a whole worldview at once decipherable and dramatically strange … To read Homer is to be struck by what Nicolson calls 'time-vertigo' – and this book is one that holds your hand and encourages you to peer over the edge. It's a book about what it means (the present tense is correct here because the process is continuous) for Nicolson to encounter Homer as a reader: an experience of wonder digested and communicated in the completest and most generous possible way. To read it is to have a fat pair of Homeric jump-leads attached from Adam Nicolson's sparking and crackling faculties of appreciation to your own." —Spectator