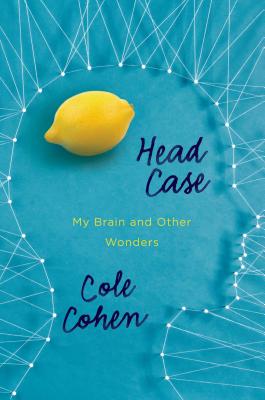 Head Case
My Brain and Other Wonders
Hardcover

* Individual store prices may vary.
Other Editions of This Title:
Compact Disc (5/19/2015)
Hardcover, Large Print (8/26/2015)
MP3 CD (5/19/2015)
Description
A spirited, wry, and utterly original memoir about one woman's struggle to make her way and set up a life after doctors discover a hole the size of a lemon in her brain.
The summer before she was set to head out-of-state to pursue her MFA, twenty-six-year-old Cole Cohen submitted herself to a battery of tests. For as long as she could remember, she'd struggled with a series of learning disabilities that made it nearly impossible to judge time and space—standing at a cross walk, she couldn't tell you if an oncoming car would arrive in ten seconds or thirty; if you asked her to let you know when ten minutes had passed, she might notify you in a minute or an hour. These symptoms had always kept her from getting a driver's license, which she wanted to have for grad school. Instead of leaving the doctor's office with permission to drive, she left with a shocking diagnosis—doctors had found a large hole in her brain responsible for her life-long struggles. Because there aren't established tools to rely on in the wake of this unprecedented and mysterious diagnosis, Cole and her doctors and family create them, and discover firsthand how best to navigate the unique world that Cole lives in. Told without an ounce of self-pity and plenty of charm and wit, Head Case is ultimately a story of triumph, as we watch this passionate, loveable, and unsinkable young woman chart a path for herself.
Praise For Head Case: My Brain and Other Wonders…
"Brave, honest, and totally compelling." —People
"Thoughtful...[Cohen's] honesty is part of what makes Head Case so readable...Cohen is also pretty funny...Because she pairs her droll take alongside her scrutiny, her story reads not as one about a neurology patient but about a young woman, a human being, trying to find her way through the misshapen labyrinth of her brain but also through the common milestones we all share." —Miami Herald
"Sad and funny, chipper and melancholy, thought-provoking and gasp-inducing." —Minneapolis Star Tribune
"Astonishing." —New York Post
"Darkly funny." —NPR Weekend Edition
"[Cohen has] a wry sense of humor." —Washington Post
"Rich with yearning and ache, conveying a scrunched sense of claustrophobia and imagery of cinematic quality. . .The author also delivers flashes of humor to add levity to the proceedings. A beautifully wrenching memoir as piercing as smelling salts." —Kirkus (starred review)
"A lemon-size hole in her brain prevents Cohen from accurately judging time and space but not from writing beautifully. She even maintains a sense of humor about it all...Though her specific condition is extremely rare, it's very easy to identify with her and to cheer for her." —Booklist
"Cole Cohen's Head Case is a moving exploration of how we try to make ourselves make sense--to ourselves, to the world--by finding stories that will fit. It's full of hard-won insight, candor and tenderness, delightful wit and surprising grace." —Leslie Jamison, author of The Empathy Exams
"Head Case is hilarious, moving, thought-provoking: it will change the way you think about what it means to move through the world, no matter the shape of your own human brain. Cole Cohen's brain is unusual, and her voice is indelible: this is a wonderful book by a wonderful writer. I can't wait to see what she writes next." —Elizabeth McCracken
"Terrifically readable, while still being piercing and honest about different kinds of struggle, some familiar, some utterly her own. Besides that, Cole Cohen's also really funny. And unafraid of being bleak. And funny/bleak. I so enjoyed being carried along by Cohen's voice." —Aimee Bender, author of The Particular Sadness of Lemon Cake
"This is an eloquent, moving, witty, and unsparingly clear-eyed memoir of a mind that is unlike any other and that, despite a lifetime of tests, simply refuses to cower before facts of life most of us wouldn't deem worthy of a second thought. This is not only a great book; it's an achievement." —André Aciman, author of Call Me by Your Name
"Head Case is funny, touching, acerbic, and emotional; it vividly evokes the world as she experiences it and leaves you feeling you have met an exceptional, tough, indomitable character. " —Susan Orlean
"I'm delighted and inspired by Cole Cohen's Head Case, an account of herself that shines throughout with her particular brand of perseverance, humor, hard-won clarity and wisdom." —Maggie Nelson, author of The Art of Cruelty
"Cole Cohen writes with poignant clarity about her life of continual disorientation--the result of a hole in her parietal lobe. I laud her persistence, her humor, her gracious prose, and most of all, her honesty - and, as the mother of a child likewise afflicted with an "invisible disability," I am grateful for this revelatory memoir. Cohen's challenges are as universal as their cause is unique, and Head Case, so raw and artful both, is an important book. Bravo!" —Robin Black, author of If I Loved You, I Would Tell You This
"Cole Cohen writes with clarity, humor and honesty about her own unique brain, but Head Case is also about the very human journey of learning to navigate the big world from inside one's one mind. This is a fascinating and brave memoir." —Ramona Ausubel, author of No One is Here Except All of Us and A Guide to Being Born
Henry Holt and Co., 9781627791892, 240pp.
Publication Date: May 19, 2015
About the Author
Cole Cohen graduated from the California Institute of the Arts MFA program in Writing and Critical Studies in 2009. She was a finalist for the Bakeless Prize and the Association of Writers & Writing Programs prize in Nonfiction and she has been a Yaddo Fellow. She currently lives in Santa Barbara, California where she works as the Events and Program Coordinator for UC Santa Barbara's Interdisciplinary Humanities Center.
or
Not Currently Available for Direct Purchase