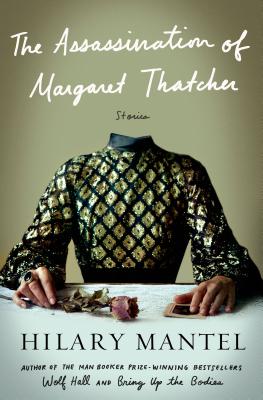 The Assassination of Margaret Thatcher
Stories
Hardcover

* Individual store prices may vary.
Other Editions of This Title:
Digital Audiobook (9/29/2014)
Paperback (9/1/2015)
CD-Audio (9/30/2014)
Description
The New York Times bestselling collection, from the Man Booker prize-winner for Wolf Hall and Bring Up the Bodies, that has been called "scintillating" (New York Times Books Review), "breathtaking" (NPR), "exquisite" (The Chicago Tribune) and "otherworldly" (Washington Post).

"A new Hilary Mantel book is an Event with a 'capital 'E.'"-NPR

"A book of her short stories is like a little sweet treat."-USA Today (4 stars)

"[Mantel is at] the top of her game."-Salon

"Genius."-The Seattle Times

One of the most accomplished, acclaimed, and garlanded writers, Hilary Mantel delivers a brilliant collection of contemporary stories
In The Assassination of Margaret Thatcher, Hilary Mantel's trademark gifts of penetrating characterization, unsparing eye, and rascally intelligence are once again fully on display.
Stories of dislocation and family fracture, of whimsical infidelities and sudden deaths with sinister causes, brilliantly unsettle the reader in that unmistakably Mantel way.
Cutting to the core of human experience, Mantel brutally and acutely writes about marriage, class, family, and sex. Unpredictable, diverse, and sometimes shocking, The Assassination of Margaret Thatcher displays a magnificent writer at the peak of her powers.
Praise For The Assassination of Margaret Thatcher: Stories…
"Mantel's stories have their own special tang and quidditas. Even as one appreciates the suave authorial style—light pared-down, technically scintillating, like the Olympic gymnast who nails her landing every time—one has the sense too that Mantel is working with some fairly edgy and complex private material in these contemporary fables…. One gets the feeling she wants both to frighten us (at times more than a little) and make us laugh. She's like an old-fashioned spirit –medium of sorts: a brusque, mischievous, Madame Arcati-like purveyor of uncanny moments. She transports us somewhere else. And she seems to be having great fun with it too…. Mantel is such a funny and intelligent and generously untethered writer that part of what one's praise must mean is that if you're intelligent and quirky enough to take the book up at all…she's got quirks enough of her own to match you, if not raise you 10." —New York Times Book Review
"A new Hilary Mantel book is an Event with a capital 'E'.... Heads always tend to roll - figuratively and otherwise - in Mantel's writing. Hers is a brusque and brutal world leavened with humor - humor that's available in one shade only: black.... makes a permanent dent in a reader's consciousness because of Mantel's striking language and plots twists, as well as the Twilight Zone-type mood she summons up...breathtaking." —Maureen Corrigan, NPR
"[Mantel's] writing is cinematically exquisite… you can't help but get sucked in." —The Chicago Tribune
"The Assassination of Margaret Thatcher delivers on its promises: the promise built by Mantel's reputation as one of the unquestionably great contemporary writers, the promise made by its shocking title, and the promise inherent in the genre of short stories…Mantel pokes and prods and scratches at our tiny collective wounds, opening them into something much bigger. Readers may find the stories uncomfortable, but also hard to put down." —A.V. Club
"A book of her short stories is like a little sweet treat…. Some of the stories are so brief and twisted…they have a hint of the cruelty of Roald Dahl's short stories (the ones that were definitely for grown-ups)…. Mantel's narrators never tell everything they know, and that's why they're worth listening to, carefully." —USA Today (4 stars)
"Here is the Mantel of her earlier, darker kitchen-sink novels: harsh and comic, even derisive." —Los Angeles Times
"[Mantel] evokes a shadowy region where boundaries blur and what might have happened has equal weight with what actually occurred…. Despite the plethora of sharply observed social detail, her short stories always recognize other potential realities…. Even the most straightforward of Mantel's tales retain a faintly otherworldly air." —Washington Post
"[A] barnburner of a title story…It's not the plot that matters as much as the superb little touches with which Ms. Mantel punctuates it." —New York Times
"Hilary Mantel has escaped from King Henry VIII's court." —The Wall Street Journal
"Mantel is not just a novelist, however, but a great political novelist at the top of her game." —Salon
"Genius." —The Seattle Times
"The stories are artfully constructed and share a muted gothic tone marked by the same 'heightened, crawling quality' that one of Mantel's narrators, a writer, finds at a moldering hotel." —New Yorker
"The Assassination of Margaret Thatcher, untied from the historical record, she gives her characters freer rein to rattle their chains, and the results…are satisfyingly chilling." —The Daily Beast
"Here are stories in which horror shudders between the high gothic of Grimm and the menacing quotidian. Oppression comes from air conditioners that 'labor and hack' and from 'the smell of drains.' Cruelty is made manifest by a wayward young girl who finds an even more outcast target in the form of a severely deformed child…. These are Ms. Mantel's signature strokes – freaks made human and humans made freakish, and always with the expiation of a dark and judgmental humor." —Pittsburgh Post-Gazette
"With ten stories unique, strange and tantalizing, Mantel shares her views poetically, harshly and with great love. A have to read." —Bustle.com
"Best known for historical novels such as Wolf Hall (2009) and Bring up the Bodies (2012), Mantel proves herself a skilled practitioner of short fiction as well…. 'What would Anita Brookner do?' asks one of Mantel's protagonists. The answer, we'd like to think, is this: She'd read Mantel's latest, and she'd delight in it." —Kirkus
Henry Holt and Co., 9781627792103, 256pp.
Publication Date: September 30, 2014
About the Author
Hilary Mantel is the two-time winner of the Man Booker Prize for her best-selling novels, Wolf Hall, and its sequel, Bring Up the Bodies. Wolf Hall has been translated into 36 languages, Bring Up the Bodies into 31 languages, and sales for both books have reached over 5 million copies worldwide. She is the author of fourteen books, including A Place of Greater Safety, Beyond Black, and the memoir Giving Up the Ghost. In 2014 she was appointed DBE.
Coverage from NPR
or
Not Currently Available for Direct Purchase