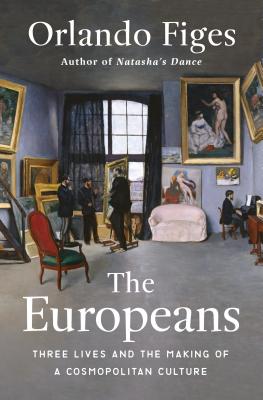 The Europeans
Three Lives and the Making of a Cosmopolitan Culture
Hardcover

* Individual store prices may vary.
Other Editions of This Title:
Paperback (11/10/2020)
Description
From the "master of historical narrative" (Financial Times), a dazzling, richly detailed, panoramic work—the first to document the genesis of a continent-wide European culture.

The nineteenth century in Europe was a time of unprecedented artistic achievement. It was also the first age of cultural globalization—an epoch when mass communications and high-speed rail travel brought Europe together, overcoming the barriers of nationalism and facilitating the development of a truly European canon of artistic, musical, and literary works. By 1900, the same books were being read across the continent, the same paintings reproduced, the same music played in homes and heard in concert halls, the same operas performed in all the major theatres.

Drawing from a wealth of documents, letters, and other archival materials, acclaimed historian Orlando Figes examines the interplay of money and art that made this unification possible. At the center of the book is a poignant love triangle: the Russian writer Ivan Turgenev; the Spanish prima donna Pauline Viardot, with whom Turgenev had a long and intimate relationship; and her husband Louis Viardot, an art critic, theater manager, and republican activist. Together, Turgenev and the Viardots acted as a kind of European cultural exchange—they either knew or crossed paths with Delacroix, Berlioz, Chopin, Brahms, Liszt, the Schumanns, Hugo, Flaubert, Dickens, and Dostoyevsky, among many other towering figures.

As Figes observes, nearly all of civilization's great advances have come during periods of heightened cosmopolitanism—when people, ideas, and artistic creations circulate freely between nations. Vivid and insightful, The Europeans shows how such cosmopolitan ferment shaped artistic traditions that came to dominate world culture.
Praise For The Europeans: Three Lives and the Making of a Cosmopolitan Culture…
A Book of the Year for Spectator, Daily Telegraph, BBC Music Magazine, BBC History Magazine, and Kirkus Reviews

"Brings distant history so close that you can feel its heartbeat."
—Karl Ove Knausgaard

"Much anticipated ... impressively thorough."
—The New York Times Book Review

"Magnificent. Beautifully written, immaculately researched and thoroughly absorbing from start to finish. A tour de force that explains how Europe's cultural life transformed during the course of the 19th century—and so much more."
—Peter Frankopan, author of The Silk Roads: A New History of the World

"Superbly entertaining and vastly informative, The Europeans show how the enriching, symbiotic internationalism of painters, musicians and writers of 19th century Europe led to the creation of artistic masterpieces that stand among Western civilization's highest achievements."
—The Washington Post

"With the future of Brexit and the European Union still uncertain, the book, which makes the case that a common European culture once existed and thrived, is doubly relevant today."
—The New York Times

"Monumental ... Figes's magisterial work will surely come as a welcome vivification of a splendid if vanished way of life."
—The Wall Street Journal

"It plunged me into another world. I learned so much and was carried away by the intelligence and fluidity of the style—a combination which is unbeatable."
—Antonia Fraser, author of Mary Queen of Scots

"An extraordinary account of the development of a continental cultured class."
—Financial Times

"Magnificent and utterly gripping: European identity, culture and commerce through the lives of three remarkable individuals, the book for our times."
—Phillippe Sands, author of East West Street: On the Origins of Genocide

"Magisterial, beguiling, searching ... a history of a continent in constant change."
—William Boyd, The Guardian

"Shaping and sweetening the prodigious array of facts and figures, Figes has wisely chosen to construct his tale around three central personalities of the age, who seem to have known everyone of cultural importance in nineteenth-century Europe ... Moving and enlightening."
—New Criterion

"Meticulously detailed, exhaustively researched and written with Figes's characteristic verve, The Europeans is a sweeping tour de force and a monumental work of historical synthesis."
—Julia Coman, The Guardian

"A massive study of nineteenth-century cosmopolitanism, and of the way social changes and technological advancements—railways, steamships, the telegraph, photography—fostered a sense of pan-European identity."
—Harper's

"Ambitious, densely woven … Figes shows that entirely unexpected relationships, clashes, and synergies can emerge when talented people from different corners of Europe interact."
—The Economist

"A prodigiously researched account of the spread of culture throughout the mid and late 19th century … The text is a who's who of the time period: Liszt, Dickens, Balzac, Hugo, George Sand, Chopin, Tolstoy, Flaubert—these and countless other icons move smoothly through the narrative, a rich mélange of tasty ingredients … A powerful and essential addition to our understanding of European history and culture."
—Kirkus (starred review)

"Excellent, wide-ranging … Figes masterfully summarizes this period … in a persuasive and consistently enlightening fashion."
—Publisher's Weekly

"Figes's deep grasp of the characters and the technology-driven societal upheaval make this cultural history fascinating, even indispensable."
—Booklist (starred review)

"Some writers use a telescope to look at the world, others a microscope. Orlando Figes … uses both to his readers' constant surprise and delight."
—The American Scholar

"Timely, brilliant and hugely enjoyable … a magnificently humane book, written with supple grace but firmly underpinned by meticulous scholarship."
—Sunday Telegraph

"Passionately exuberant … Europe's dynamic culture comes to life in the tumultuous story of singer Pauline Viardot, her husband, and her lover, Turgenev … Breathtaking."
—Sunday Times

"Remarkable … Orlando Figes is a fine historian who combines scholarly detail with readability. His wide-ranging book touches on a multitude of subjects. But at its heart is a love triangle—the very human story of three remarkable individuals whose lives he has resurrected with great sympathy and insight."
—Daily Mail

"A brilliant book, enormously impressive."
—Peter Frankopan, Spectator

"Figes is a fine, subtle writer with a nice eye for detail and clever with structure. I finished the book entertained, informed and armed with the kinds of insights and questions that will keep me happily going for the rest of the year."
—The Times

"An exhilarating whirl through 19th-century Europe … should enchant anyone interested in the cultural revolutions of the 19th century."
—BBC History Magazine

"A kaleidoscopic survey of European high culture from the mid-nineteenth to the early twentieth century, encompassing everything from painting and railways to politics and music, as rich and densely packed as a fruitcake."
—Country Life

"Wonderful … Figes delivers a riveting examination of the nuts and bolts of high culture. … No aspect of the business of culture escapes his notice."
—Air Mail

"I loved the book. I read it in every spare moment, fascinated and sometimes surprised. All of the principal characters are inspiring, but The Europeans also shows the struggles and backbiting and mistakes which can also lie behind a repertoire we tend to take for granted. I have been speaking about the book to everyone I know: it is clearly not just a book for musicians but for the widest audience interested in literature, music and art."
—Barbara Hannigan
Metropolitan Books, 9781627792141, 592pp.
Publication Date: October 8, 2019
About the Author
Orlando Figes is the author of A People's Tragedy, Natasha's Dance, and The Crimean War, among other books. His works have been translated into twenty-seven languages. A professor of history at Birkbeck, University of London and a frequent contributor to The New York Review of Books, Figes is the recipient of the Wolfson History Prize, the W. H. Smith Literary Award, and the Los Angeles Times Book Prize. He lives in London.