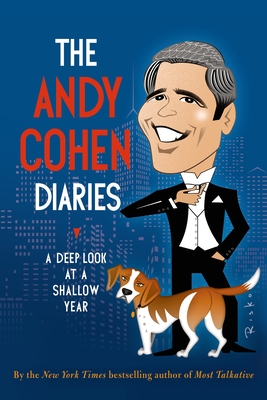 The Andy Cohen Diaries
A Deep Look at a Shallow Year
Hardcover

* Individual store prices may vary.
Other Editions of This Title:
Digital Audiobook (11/10/2014)
Paperback (11/3/2015)
Mass Market (12/5/2017)
CD-Audio (11/11/2014)
Description
A New York Times bestseller, The Andy Cohen Diaries chronicles a year in the whirlwind life of the beloved pop icon, in his own cheeky, candid, and irreverent words

As a TV Producer and host of the smash late night show Watch What Happens Live, Andy Cohen has a front row seat to an exciting world not many get to see. In this dishy, detailed diary of one year in his life, Andy goes out on the town, drops names, hosts a ton of shows, becomes codependent with Real Housewives, makes trouble, calls his mom, drops some more names, and, while searching for love, finds it with a dog.

We learn everything from which celebrity peed in her WWHL dressing room to which Housewives are causing trouble and how. Nothing is off limits – including dating. We see Andy at home and with close friends and family (including his beloved and unforgettable mom). Throughout, Andy tells us not only what goes down, but exactly what he thinks about it.

Inspired by the diaries of another celebrity-obsessed Andy (Warhol), this honest, irreverent, and laugh-out-loud funny book is a one-of-a-kind account of the whos and whats of pop culture in the 21st century.
Praise For The Andy Cohen Diaries: A Deep Look at a Shallow Year…
"A remarkable book . . . It's an important text when it comes to understanding what it is to be a gay man today." —Time

"Cable TV's dishiest guy at his dishy best. . . a glamorous, goofy look at 365 days of a charmed showbiz life." —Kirkus

"[Cohen's] writing style is conversational and tight, infused with snarky and self-deprecating humor . . . He owns the name-dropping and navel-gazing, but has the honesty, wit and confidence to pull it off, striking a balance between being self-involved and self-aware." —The Associated Press

"A wild, starry ride." —Us Weekly

"After reading this funny, intimate, candid, honest diary of a year in Andy's life, I couldn't help but wonder, "Is Andy Cohen...Carrie Bradshaw?" —Sarah Jessica Parker

"The funniest thing I've done all year is read Andy Cohen's Diaries. He has more genuinely funny and surprising encounters with celebrities and sublebrities in a day than I do all year. Then my name popped up. Now I just want to sue him." —Anderson Cooper

"I am not, nor have I ever been, engaged to Andy Cohen. But his book is really funny." —Sean Avery

"Andy Cohen keeps the oddest hours of anyone in the building. he comes, he goes, he comes back (in the middle of the night.) Now, I finally found out where he's going. If you ask me, nobody should be allowed to have this much fun." —Surfin Percy, Andy's Doorman

"Andy Cohen's diaries are the literary equivalent of a Fresca and tequila." —Jimmy Fallon
Henry Holt and Co., 9781627792288, 352pp.
Publication Date: November 11, 2014
About the Author
Andy Cohen is the host and Executive Producer of "Watch What Happens Live," Bravo's late night, interactive talk show. The series is the only live show in Late Night, and features everyone from "Bravolebrities" to big names in pop culture, including Oprah, Cher, Lady Gaga, Meryl Streep, Sarah Jessica Parker, Tina Fey, Liam Neeson, Jerry Seinfeld, Jimmy Fallon, Jane Fonda, Anderson Cooper, Ellen Barkin, Kelly Ripa, Diane Von Furstenberg, Mike Tyson, Kareem Abdul Jabar, and many many Real Housewives. He also serves as Executive Producer of "The Real Housewives" franchise and hosts the network's highly rated reunion specials. Cohen has an active following on social media, where he commands over two million followers on Twitter, Instagram and Facebook.

In May 2013, Cohen became a New York Times best-selling author for the second time with the release of the paperback version of his book, Most Talkative: Stories from the Frontlines of Pop Culture published by St Martin's Press. The hardcover, published by Henry Holt, also achieved similar success back in June 2012, spending 13 weeks on the list.

Cohen served as Bravo's Executive Vice President of Development and Talent from November 2011 to present. He was responsible for creating original content, developing innovative formats and identifying new talent. He also served as Executive Producer on Emmy and James Beard award-winning "Top Chef." Cohen started at Bravo in 2004 as Vice President, Original Programming and in 2005 he was elevated to Senior Vice President of Original Programming & Development. He upped to Executive Vice President of Original Programming & Development in December, 2010. Since then he has overseen an aggressive slate of unscripted series and specials including hits such as the Peabody Award winning "Project Runway," Emmy winning "Top Chef," "Queer Eye," "Work Out," "Being Bobby Brown," "Top Design," "Make Me a Supermodel," "Blow Out," "Kathy Griffin My Life On the D List," "The A List Awards" "The Millionaire Matchmaker," "Million Dollar Listing," "The Rachel Zoe Project," "Work of Art: The Next Great Artist," "Bethenny Ever After," "Tabatha's Salon Takeover," "Shahs of Sunset," "Flipping Out," and "The Real Housewives" franchises.

Previously, Cohen was Vice President of Original Programming for TRIO (pop, culture, TV), beginning in July 2000. He was responsible for developing and supervising all of TRIO's original productions including the critically acclaimed original documentaries "Gay Republicans," "Easy Riders/Raging Bulls," "Brilliant, But Cancelled," and the original series "Pilot Season," "24w/" and "Parking Lot."

Cohen received an Emmy award when season six of "Top Chef" won Outstanding Reality Competition Program at the 2010 primetime Emmy awards and has been nominated for 17 additional Emmy Awards as Executive Producer of "Project Greenlight," "Project Runway," "Top Chef" and "Queer Eye." In 2005, Cohen was awarded a Peabody Award for his role as Executive Producer of the TRIO documentary "The N Word" and another in 2008 as an Executive Producer of "Project Runway."

Cohen is a regular on the "Today Show" and "Morning Joe" and has cohosted "Live! with Kelly and Michael," "The View," "Anderson Live" and the 10:00am hour of "Today." He has also been a guest on "Late Show with David Letterman," "The Tonight Show with Jay Leno" and "Late Night with Jimmy Fallon."

Cohen interviewed Lady Gaga for the December cover story of Glamour Magazine. In June of 2013 he was named to Fast Company's 100 Most Creative People in Business List. Cohen has also hosted the CFDA Fashion Awards, interviewed Rihanna live on Facebook, Jerry Seinfeld on AOL.com, and Martha Stewart at the 92nd St YMCA. In December of 2012 GQ Magazine named Cohen one of the 25 Best Dressed Men of the Year. In 2011 and 2012, he hosted the "Miss USA" and "Miss Universe" pageants live on NBC. Cohen has appeared on the covers of several magazines including Parade, Entertainment Weekly, Hamptons, and The Advocate and has been profiled by The New York Times, Glamour Magazine, Vanity Fair, People and Fortune magazine. In 2012 he was chosen as one of Broadcasting & Cable's "Digital All-Stars" and in 2010, he was listed as one of TV Guide's "25 Most Influential People in Television."

Prior to working at TRIO, Cohen spent 10 years at CBS News as Senior Producer of "The Early Show," overseeing the production of entertainment segments. Cohen also served as a producer for CBS News' "48 Hours" and for "CBS This Morning," where he produced live segments, celebrity profiles and covered breaking news including the Oklahoma City bombing, Hurricane Andrew, the California wildfires, and the crash of TWA Flight 800.

Born in St. Louis, Cohen is a graduate of Boston University where he received a B.A. degree in broadcast journalism. Cohen is currently on the board of directors for charity Friends In Deed and currently resides in New York City.
Coverage from NPR
or
Not Currently Available for Direct Purchase