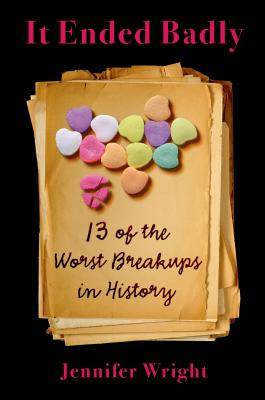 It Ended Badly
Thirteen of the Worst Breakups in History
Hardcover

* Individual store prices may vary.
Other Editions of This Title:
Digital Audiobook (11/2/2015)
Description
A history of heartbreak-replete with beheadings, uprisings, creepy sex dolls, and celebrity gossip-and its disastrously bad consequences throughout time

Spanning eras and cultures from ancient Rome to medieval England to 1950s Hollywood, Jennifer Wright's It Ended Badly guides you through the worst of the worst in historically bad breakups. In the throes of heartbreak, Emperor Nero had just about everyone he ever loved-from his old tutor to most of his friends-put to death. Oscar Wilde's lover, whom he went to jail for, abandoned him when faced with being cut off financially from his wealthy family and wrote several self-serving books denying the entire affair. And poor volatile Caroline Lamb sent Lord Byron one hell of a torch letter and enclosed a bloody lock of her own pubic hair. Your obsessive social media stalking of your ex isn't looking so bad now, is it?

With a wry wit and considerable empathy, Wright digs deep into the archives to bring these thirteen terrible breakups to life. She educates, entertains, and really puts your own bad breakup conduct into perspective. It Ended Badly is for anyone who's ever loved and lost and maybe sent one too many ill-considered late-night emails to their ex, reminding us that no matter how badly we've behaved, no one is as bad as Henry VIII.
Praise For It Ended Badly: Thirteen of the Worst Breakups in History…
"Wright combines a deep knowledge of her subjects with an abiding love for their depravity; she chronicles their breakups with a wit as sharp as a guillotine's blade."—People

"The tone—intimate, whimsical, smart, and silly at once—continues through two millennia of stories of love lost and found... Wright dishes dirt on all of them...with the gleeful irreverence of your wittiest friend recapping a particularly juicy episode of reality television."—The Boston Globe

"Immensely entertaining... If you've gone through a breakup, stock up on Haagen-Daz, block your ex's number, get drunk with your friends and buy this book."—BUST Magazine

"This is balm for the brokenhearted: we are laughing! We are learning!...Above all, It Ended Badly offers hope: for the late-night drunk texters, the doughnut smashers, and everyone else currently exhibiting bad breakup behavior."—Kirkus

"Although the 13 stories feature heartbreaking and horrific tales, Wright leaves the reader with positive and hopeful thoughts on love... The writing fits right in with the work of comedian authors Tina Fey and Chelsea Handler."—Library Journal (starred review)

"Delightful... funny, irreverent... The book teaches even as it entertains, and applies modern psychology to the behavior of its subjects, providing both amusements and consolation to people likely in need of both." —Publishers Weekly (starred review)

"When it comes to love and desire, conquest is thrilling, revenge is delicious, but does anything really satisfy like schadenfreude? Here, have a heaping plate of it, courtesy of the wittiest writer on the beat." —Ben Ryder Howe, author of My Korean Deli

"I took It Ended Badly and a bottle of wine to the couch, and I didn't get up until both were finished." —Alexis Coe, author of Alice+Freda Forever: A Murder in Memphis

"From Nero's narcissism to Oscar Wilde's heartbreak to Debbie Reynolds drama with Eddie Fisher and Elizabeth Taylor, Jennifer Wright provides an illuminating chronicle of love, heartbreak and everything in-between. It's a must-read for anyone who loves history or a good story, especially when accompanied with a pint of ice cream and romantic angst. And unlike the tumultuous relationships she covers in these pages, you'll be sad when It Ended Badly is over." —Mary Pilon, author of The New York Times bestselling The Monopolists

"Heartbroken? Jennifer Wright has the antidote. A compassionate, dishy, and very funny tour of the unbelievable but true antics of the world's most legendary exes, It Ended Badly is the perfect break up cure. You will cry until you laugh." —Iris Smyles, author of Iris Has Free Time

"This fantastic book will make you feel so much better about your break ups!" —Danny Strong, creator, writer, and director of TV's Empire
Henry Holt and Co., 9781627792868, 256pp.
Publication Date: November 3, 2015
About the Author
Jennifer Wright is a columnist for the New York Observer and the New York Post, covering sex and dating. She was one of the founding editors of TheGloss.com, and her writing regularly appears in such publications as Cosmopolitan, Glamour, and Maxim. Her breakup cure is gin, reruns of 30 Rock, and historical biographies. She lives and loves in New York City.
or
Not Currently Available for Direct Purchase