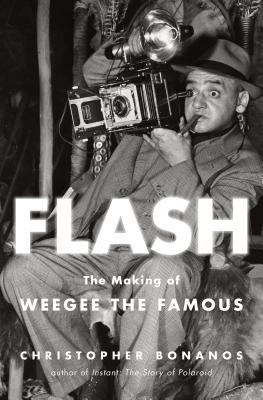 Flash
The Making of Weegee the Famous
Hardcover

* Individual store prices may vary.
Other Editions of This Title:
Digital Audiobook (6/4/2018)
Paperback (6/11/2019)
Description
The first comprehensive biography of Weegee—photographer, "psychic," ultimate New Yorker—from Christopher Bonanos, author of Instant: The Story of Polaroid.

Arthur Fellig's ability to arrive at a crime scene just as the cops did was so uncanny that he renamed himself "Weegee," claiming that he functioned as a human Ouija board. Weegee documented better than any other photographer the crime, grit, and complex humanity of midcentury New York City. In Flash, we get a portrait not only of the man (both flawed and deeply talented, with generous appetites for publicity, women, and hot pastrami) but also of the fascinating time and place that he occupied.

From self-taught immigrant kid to newshound to art-world darling to latter-day caricature—moving from the dangerous streets of New York City to the celebrity culture of Los Angeles and then to Europe for a quixotic late phase of experimental photography and filmmaking—Weegee lived a life just as worthy of documentation as the scenes he captured. With Flash, we have an unprecedented and ultimately moving view of the man now regarded as an innovator and a pioneer, an artist as well as a newsman, whose photographs are among most powerful images of urban existence ever made.
Praise For Flash: The Making of Weegee the Famous…
*A New York Times and Library Journal Best Art Book of 2018, a Newsday and Town & Country Best Book of 2018, and a Star Tribune and Globe and Mail Best Holiday Gift Book*

"Christopher Bonanos has finally supplied us with the biography Weegee deserves: sympathetic and comprehensive, a scrupulous account with just the right touch of irreverence. Bonanos…takes the photographer seriously without letting him and his self-mythologizing off the hook." —The New York Times

"[A]n outstanding biography...Bonanos is a peerless guide to Weegee's career, writing with obvious relish and great insight." —Newsday

"A snappily written life of Weegee the Famous…[a] fine biography"—The Wall Street Journal

"Weegee and his world don't encourage minimalism, and, fifty years after his death, he has at last acquired a biographer who can keep up with him." —Thomas Mallon, The New Yorker

"Continually fascinating…deeply researched…compelling."—Kirkus Reviews, *Starred Review*

"An analysis of the news photographer's times, photos, and techniques as well as of his publicity-hungry persona, this it the biography the pseudonymous Arthur Fellig – self-anointed 'official photographer for Murder Inc.' – deserves." —The Globe and Mail

"The cut and strut of Bonanos' vivid prose captures the rough-and-tumble of mid-twentieth-century New York, while vital details gleaned from his extensive research enliven the portrait...he makes the man behind the camera fully human." —Booklist, *Starred Review*

"[A] superb biography…Bonanos has meticulously researched every aspect of Weegee's life, filling this fascinating and lively account with amusing and touching anecdotes." —Library Journal, *Starred Review*

"[An] impeccably researched biography…Bonanos offers a lively history of the early years of news photography, rich with anecdotes that create Weegee's persona." —PopMatters.com

"Christopher Bonanos' superb biography reveals how the man born as Usher Fellig in 1899 reinvented himself as a chronicler of the seedier sides of nocturnal Manhattan in the 1930s." —The Seattle Times

"[A] gritty, exhilarating portrait" —BoweryBoysHistory.com

"Vivacious … long-overdue and endlessly entertaining." —The Santa Fe New Mexican

"[A]n energetic and informative biography…Bonanos's revelatory portrait of 'Weegee the Famous' will interest general readers, as well as those with a special interest in photojournalism." —Publishers Weekly

"Arthur 'Weegee' Fellig was perhaps the perfect vehicle for defining and delivering the fear and wonder of the modern city to our American spirit. Journalist, artist, and huckster, Weegee stole shards of a New York through a camera lens, then reassembled the great city in a mosaic that somehow—despite a fair degree of fraud—still defines urbanity itself for us. We know the photographs, and now, with this biography from Christopher Bonanos, we can finally know something of the legendary, improbable, and much-caricatured man."—David Simon, creator of HBO's The Wire and The Deuce

"Flash is a crackling portrait of a man and his era—as immediate and as alive as Weegee's pictures themselves. Chris Bonanos vivifies not only his subject, but the long lost New York that he lived in, and that made him."—Daniel Okrent, New York Times bestselling author of Last Call: The Rise and Fall of Prohibition

"Weegee, in addition to being one of the greatest photographers ever, was a cartoon character and something of a living myth. This has confused perception for the better part of eighty years. Christopher Bonanos's nuanced and sympathetic account succeeds in merging those three aspects—not only was a lot of the bluster for real, but even the pure baloney was hard-won and contextually grounded. His is a sweet and melancholy book and a doorway into a mostly misremembered past."
—Luc Sante, author of Low Life: Lures and Snares of Old New York

"There's something about a car crash that makes people slow down as they pass by. The same is true of Weegee's photos. Maybe I wouldn't have liked to have known him, but it would've been interesting to have met him. And this fascinating biography by Christopher Bonanos brings to life the gritty old New York City where he lived and worked. He was a legendary character whose work inspired young hopefuls like myself."—Cindy Sherman, artist
Henry Holt and Co., 9781627793063, 400pp.
Publication Date: June 5, 2018
About the Author
Christopher Bonanos is city editor at New York magazine, where he covers arts and culture and urban affairs. He is the author of Instant: The Story of Polaroid. He lives in New York City with his wife and their son.
or
Not Currently Available for Direct Purchase